The controversy over Union Minister Vayalar Ravi's grandson's feeding ceremony at Kerala's famed Guruvayur temple -- following which the temple authorities conducted a purification ritual, since the minister's wife is a non-Hindu -- continues to fester.
In a series of reportage and interviews this week, Rediff.com presents various viewpoints regarding the temple's stand. We flag off the series with an interview with Vayalar Ravi.
Faith is personal but in India it is often challenged in public.
Union Minister for Overseas Indian Affairs Vayalar Ravi is in anguish because he is being asked to prove that his faith in Hinduism is genuine.
Ravi belongs to Kerala's Ezhava caste -- classified in the southern state as part of the Other Backward Classes -- which comprises around 24.5% of its population. This number includes the kindred Thiyya community in the state's north Malabar region. Considered industrious, this community of traditional toddy-tappers have made rapid strides economically and socially. Chief Minister V S Achuthanandan, for instance, is an Ezhava while his bitter political rival Communist Party of India-Marxist state secretary Pinarayi Vijayan is a Thiyya.
Ravi married Maria Francis some four decades ago. Ravi and Maria, who is also known as Mercy, have consciously brought up their children in the Hindu tradition in view of Kerala's conservative societal structure.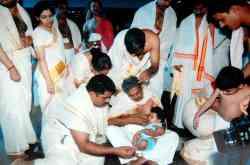 Mercy, a Roman Catholic, says, perhaps half-jokingly, "If I had brought up my children as Christians then my husband's community would have cut me into pieces."
Two of their three children are married; a daughter is still unmarried because Ravi staunchly believes in astrology and her graha dasha has so far not matched a prospective groom's graha position.
Ravi's four-month-old grandson Rajiv Krishna's feeding ceremony was recently performed at the Guruvayur temple. When the temple management discovered this they conducted a purification ritual.
Seven years ago, a similar purification ritual was performed when his son Ravi Krishna visited the temple after his marriage but Ravi did not then take legal action against the temple. This time though, Ravi Krishna is planning to go to court to force the temple management to accept his family as Hindu.
Ravi thinks that the Guruvayur temple authorities's "Brahminical arrogance" is responsible for hurting his sentiments.
What are the facts of this controversy? Are you a Hindu?
I am born a Hindu and I am a Hindu. The fact is that till the 1970s I was not going to the temple. When I became a member of Parliament in the 1970s I didn't swear in the name of God but took an oath on affirmation.
But when my wife got seriously ill in 1985 and underwent surgery I prayed to God. I went to all the temples. I was Kerala's home minister then, but what use is power when your wife is in a serious condition? I prayed because I thought only God can save her. I turned a believer and went to temples regularly.
I am an untouchable and our community is of untouchables in Kerala. We Ezhavas are 24.5 per cent of Kerala's population. We were not allowed to enter temples, but in the 1930s a movement took place to allow untouchables to enter temples. Thereafter, we were allowed to pray in temples.
Three, four years later, Kelappanji fought for us and made our entry into the Guruvayur temple possible.
Once upon a time I was an untouchable and this type of attitude in Guruvayur always hurts me.
When did you first face resistance from the temple priests?
My own marriage was fixed by the Sree Narayana Dharma Paripalana Yogam which was created by the maharaja (of Travancore)'s order. Any marriage conducted under it is legal. The SNDP was founded by Sree Narayana Guru. I worship Sree Narayana Guru. I regularly go to Shivagiri (his samadhi). The SNDP is not only legal but it is part of Hinduism. My wife and I took membership and got married.
In 2000, at the time of my son's marriage, my daughter-in-law's father wanted the marriage conducted in Guruvayur. We conducted it there.
In Ezhavas, marriages are conducted differently. We go to shakhas (branch) in our village, get registered. Every village has the branch and the shakha sends the patrika (invitation) to the boy's shakha in his village. Then they send the documents. It is legal and nobody can challenge it.
My children's marriages have been done in the Ezhava tradition. All my children are brought up as Hindus and their birth and school certificates mention Ezhava, Hindu.
If you don't mind, can you tell us if they were brought up in the Hindu tradition?
You can ask me anything, I won't mind. Don't feel sorry. I have to clarify. It's a question of my future generation. They have been brought up as Hindus. They go to Hindu temples. My son goes to Sabarimala. They go to Tirupati, they are married into Hindu families.
Ravi Krishna, my son, is called Unni at home. Unni means Unnikrishnan, that is Lord Guruvayurappan.
When Ravi got married, his mother, that is my wife, didn't enter the temple. She stayed back. She is well aware that it would have created a problem.
She is not a practicing Christian. We are progressive and secular people and we enjoy freedom inside our home. At that time they went for purification I got angry. I wrote a letter to the then chief minister.
I prepared to go to court but a relative of the current priest came to me and requested me not to go to court. That intermediary, who was a Namboodri, is not alive today.
Ezhavas are patriarchal (Editor's note: The Thiyyas of north Malabar are, on the contrary, matriarchal)and that is important. In Kerala, upper castes like Nairs and Namboodris are matriarchal, but not Ezhavas. As it is, after amendments in the Hindu bill everybody in the family has a share in family property; the caste system and customs don't prevail, the law prevails.
During the temple entry movement only when Gandhiji prevailed and the maharaja intervened, could untouchables enter the temple. Even at that time the thanthris (priests) opposed it. The maharaja had to overrule them.
Isn't it true that your children have been baptised as Catholics?
No, no. Never. Do you think Vayalar Ravi can do anything hiding from the public?
I have been a well known person in Kerala since my student days. I am in public life for 50 years. I was a student leader, agitator, Congress leader, minister, MP. Do you think I can baptise my children privately?
In that case, why don't the priests believe your claim?
I don't like to comment but I think it is Brahminical arrogance. I didn't expect it. I wasn't knowing it.
When I was in Trivandrum I saw the Malayalama Manorama television channel showing the news about the purification conducted by the Guruvayur temple against the entry of my son. He has entered the temple many times, but the priests never did this before.
I was sad and shocked. When my son Ravi's first boy Arjun Krishna died we were very depressed. He was a pet child of our family.
My daughter-in-law took a vow that her second son would be 'offered' to Lord Guruvayurappan (an avatar of Lord Krishna) and would be fed his first meal in the Guruvayur temple. She also said he would be an adima (slave) of the Lord. So the four-month-old Rajiv Krishna was taken to the temple.
His name was fixed as Rajiv on the 20th day, but as his grandfather I had to mention his name in the Lord's presence. So we went to the temple for a ceremony to fulfill his mother's wish. She did all this with devotion and bhakti.
My family is upset and feels humiliated. How can you say we are not Hindus?
Is there any politics behind it?
It is not politics. The Devasthanam management said if I objected, then the priests would stop the pujas. I am a Hindu and I don't want the puja to be stopped for a minute.
The priest wants to play with faith. The thantri is playing politics. I am sad that a game is being played. I am not angry, but sad. My son will go to court. He has to take legal course because none of my future generations can worship in the temple. My sons and daughter's children will also be barred.
How has your wife reacted?
She is a believer. She is always present at all the pujas in the house. She performs puja at my home in Delhi. She is sad and asks me, 'Is it a crime that I brought up my children as Hindus?' This kind of attitude does not suit us in the 21st century.
Such incidents reminds me that I was an untouchable, a backward and lower caste once upon a time.
Guruvayur is the most pious shrine and I don't like to be kept out of it. This is against the wishes of God. This is daivaninda, condemnation of God. I am a lower caste and that doesn't mean you clean the temple like that. Or, is it a crime to marry a Christian?
I go to all kind of organisations of various faiths, I am not propagating any Christian institutions. My son asks, 'What is the crime of my newly-born son?' We run a temple in my village Vayalar. Being a devout Hindu, my son feels very sad.
Tomorrow: Mercy Ravi speaks out!
Image: Vayalar Ravi at his grandson's feeding ceremony at the Guruvayur temple. Photograph: Sonu Mehta