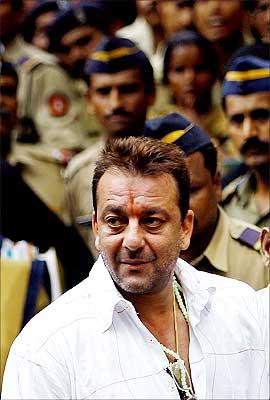 Rejecting his plea for leniency, actor Sanjay Dutt was on Tuesday given a six-year jail term in the 1993 Mumbai serial blasts case by a special court in Mumbai that said some of his acts were "eminently dangerous" and showed a "high element of criminality."
Bringing the curtains down on the 13-year-long trial, Judge P D Kode of the Terrorist and Disruptive Activities (Prevention) Act court cancelled Dutt's bail and ordered police to take him into custody.
Dutt was also fined Rs 25,000.
"Sir, I made a mistake 14 years ago. Please give me some time to surrender," a visibly shocked Dutt pleaded in court with folded hands after his hopes of being set free under the Probation of Offenders Act were dashed.
Kode, who has awarded death to 12 convicts and life imprisonment to 20, posted Dutt's plea for hearing later in the afternoon, but rejected it.
Dutt had earlier spent 16 months in jail in two spells following his arrest in 1993.
Dutt's friend Rusi Mulla was given relief under the POA, raising the hopes of Dutt and his fellow convicts Kersi Adjania and Yusuf Nulwalla that they would get a similar benefit. But Kode sentenced Adjania to two years' rigorous imprisonment and gave a five-year term to Nalwalla before pronouncing the sentence for Dutt.
Dutt, who turned 48 on Sunday, was convicted in November 2006 for the illegal possession of a 9mm pistol and an AK-56 rifle, but acquitted of more serious charges under the now defunct anti-terror TADA law.
Dismissing the defence's argument that the weapons were acquired by Dutt for self-defence, Kode termed it an "eminently dangerous act" as the weapons possessed by him were capable of mass destruction though he had not used them.
The court observed that Dutt had not merely committed a criminal act, but also told three others to commit criminal acts on his behalf.
After a court clerk read out the sentence in the case that saw Bollywood personalities launching a campaign seeking clemency for the actor, Dutt was seen chatting with fellow convicts and friends Nulwalla and Adajania.
Commenting on affidavits filed by public personalities like thespian Dilip Kumar in support of Dutt, Kode said these are of "no use" if there was evidence that the actor had indulged in a criminal act.
Kode said Dutt's acquisition of the weapons could not be termed "noble" as it was contrary to the law and indicated scant respect for the law.
"I must say for every citizen, laws of the nation shall be respected. If you don't, I don't expect you to be called a moral person," he said.
Kode said the accused's character is very important while considering if he deserved relief under the POA. He pointed out that apart from possessing weapons, Dutt was a close acquaintance of Anees Ibrahim and had attended a party hosted by underworld don Dawood Ibrahim in Dubai.
The judge also said Dutt drew another person to commit a crime, which showed a "high element of criminality."
Kode, however, remarked the crimes committed by Dutt and his friends Adajania and Nulwalla were not "anti-social, ghastly, inhuman, immoral or pre-planned" and did not cause any harm to the general public.
Dutt had maintained that he acquired the weapons to "protect" his family in the aftermath of sectarian violence that erupted in Mumbai following the demolition of the Babri mosque in late 1992.
When Dutt's counsel Satish Maneshinde tried to point out that his client's conduct had been excellent, Kode asked Special Public Prosecutor Ujjwal Nikam for his opinion.
Nikam said: "I appreciate his conduct but there is a legal restraint that a person sentenced to more than three years in prison cannot be granted an extension of bail."
On his way out of the court, Dutt shook hands with Nikam and said, "Thank you, sir."
The 12 blasts that rocked Mumbai on March 12, 1993, claimed 257 lives and injured over 700. They also destroyed property worth crores of rupees.
Dutt will be sent to Arthur Road jail premises in central Mumbai.
Kode does not have the power to grant Dutt bail under the Criminal Procedure Code. Dutt's bail will stand cancelled, lawyer Majid Menon said.
Dutt's lawyers said they would appeal against the judgment in the Supreme Court on Tuesday afternoon.
The judge said Dutt had committed a series of offences and that he was mature when he committed these offences. Dutt was almost in tears when the judge pronounced the verdict.
He asked if he could call his daughter Trishala, who lives in New York.
The judge asked Dutt "Where is she?"
"In New York," replied Dutt.
"Be patient," the judge told Dutt.
"Can you grant me bail?" Dutt then asked the judge. "If it was a lesser crime I could, but in this case I don't have the power to do so," the judge said.
Dutt then requested the judge not to have the police surround him and take him away to jail. The judge then said, "Ok, we will give you time till post-lunch."
Sanjay Dutt and Yusuf Nulwalla are to be kept in separate cells in the Arthur Road jail till August 2.
Dutt spent 16 months in prison as an undertrial in the 1993 blasts case.
Text: Syed Firdaus Ashraf in Mumbai | Photograph: Getty Images
Additional Reportage: PTI