She wants to fight to the finish and does not wish that her husband, an IAS officer from Karnataka, die the death of other whistle-blowers.
Bangalore resident J N Jayashree, wife of M N Vijayakumar, managing director of the government-owned sick unit Mysore Lamps, has only one motto in life: 'Either expose the corrupt or embarrass them'.
And not without reason. Her husband has been in the news for his penchant to expose corrupt colleagues and seniors in the government. And what was his reward? Seven transfers in nine months.
While Vijayakumar goes about doing his bit, his wife does not wish to lag behind. The couple have now decided to jointly fight corruption.
She has filed several applications under the Right to Information Act seeking details about the assets owned by various bureaucrats. She has been successful at times, but has had her share of failure too.
However, Vijaykumar does not seem to have the required support at the government level and many of his colleagues have decided to avoid him, terming him eccentric. But the IAS officer did not lose heart; his wife of 23 years has sworn to stand by him no matter what.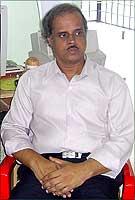 Jayashree, who is firmly on the warpath against corruption, says her husband is being harassed only because of his urge to expose the corrupt, through the Internet.
With the help of her son, a doctorate student in computer science at Delaware State University, Jayashree built her web site, fightcorruption.wikidot.com. On it, she put out her husband's story and also several other messages crying out to fight corruption.
She said the web site will help her carry on their crusade against corruption. She recalls the deaths of Satyendra Dubey (the whistle-blower about corruption in the Golden Quadrilateral project who was bumped off) and also Manjunath Shanmugam (who met with a similar fate in the petrol adulteration case). She said these incidents had taught her a lesson and hence she decided to expose the corrupt in a more organised manner.
Jayashree says life has been tough. "However, I have now decided to take up this fight against corruption independently and want to mobilise support from like-minded persons. I also want to assist persons who have knowledge of corrupt practices but are afraid to take them further for various reasons," she told this correspondent.
She says the internet is a huge medium and is sure she will be able to mobilise enough support in the days to come. The site, which is around three months old, has already had nearly 10,000 hits. She says her site is updated everyday and has received responses from across the globe.
On the site Jayashree has also established a Right to Information Forum and says she has received several responses from citizens.
Jayashree says the web site has already shaken up a few and quotes from a recent letter from the Karnataka chief secretary, P B Mahishi in which he inquires if Vijayakumar is also involved in the web site and since husband and wife are a single unit, their stand ought to be clarified.
Jayashree feels this is an attempt by the government to curb her freedom of expression, and promptly quoted this letter in a complaint before the State Information Commission.
Quoting American author Edward Everett Hale she says, "I am only one. But I am still one. I cannot do everything. But still I can do something; And because I cannot do everything; Let me not refuse to do the something that I can."