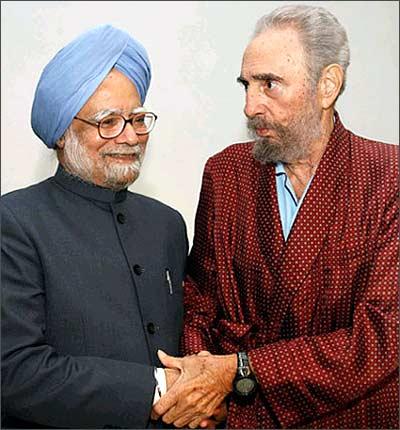 Prime Minister Manmohan Singh spent an
unforgettable 40 minutes with Fidel Castro
at the Havana hospital where the Cuban president is recovering from intestinal surgery.
Castro, who has apparently lost some 19 kilos since surgery in July, was in a wheelchair during the meeting. Dr Singh was one of the few visitors he received during the 14th Non-Aligned Movement summit, attended by 116 member countries, which was hosted by brother Raul Castro in Cuba's capital city.
Fidel Castro was nominated NAM president for the first time, but was too weak to attend.
The Cuban leader, 80, requested Dr Singh to appear with him in a photograph. "I want this picture to be seen by all of India," Castro told the prime minister.
Castro has always had a warm friendship with India and was a frequent visitor to the Indian embassy in Havana, which opened in 1960. He visited Kolkata in 1973 on his way back to Cuba from Vietnam. He also visited New Delhi ten years later for the NAM summit in 1983.
Both Indira Gandhi and Jawaharlal Nehru, who he met for the first time in 1960 in New York, were Castro's special friends. Rajiv Gandhi visited Havana in 1985. Ernesto 'Che' Guevara -- the legendary Argentine-born Cuban revolutionary -- too visited India in July 1959.
India and Cuba have maintained a close relationship, supported each other at critical junctures and worked together on various inter-country projects.
"He recalled his affection for Jawaharlal Nehru and Indira Gandhi," Dr Singh, who had an intense discussion with Castro on various issues, said. "I will always remember this meeting. I felt I was in the presence of one of the greatest men of our times."
Photograph: Press Information Bureau