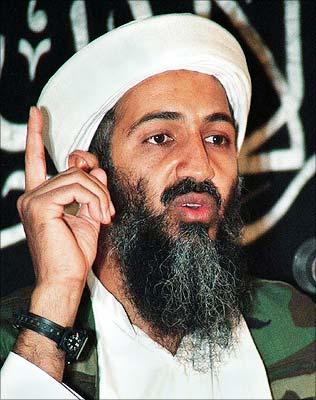 Five years after
9/11
, Osama bin Laden -- the man said to be behind this horrific act of terrorism -- is still at large.
Not only has the Al Qaeda leader avoided capture, he routinely sends out video and audio tapes exhorting jihad against US interests and warning of more terrorist strikes.
Most reports indicate that the world's most wanted man is hiding in the tribal areas on the Pakistan-Afghanistan border. Some, however, say he could be hiding in a Pakistani city like Karachi or Peshawar, while others say he could be in Africa.
Where is Osama? Why hasn't he been caught yet?
Send us your answers.
SMS: OSAMA followed by your answer to 7333. You can send in as many entries as you like.
A Rediff editorial team will select the 10 best entries.
The 10 winning entries will be published on rediff.com.
The winning entries will also win vouchers worth Rs 500 each, which can be redeemed on Rediff Shopping.
The last date for sending in your entries is 9 pm, September 21.
So hurry up and send in your entries!
Prizes sponsored by Rediff Shopping, the place for the best deals on the Internet!