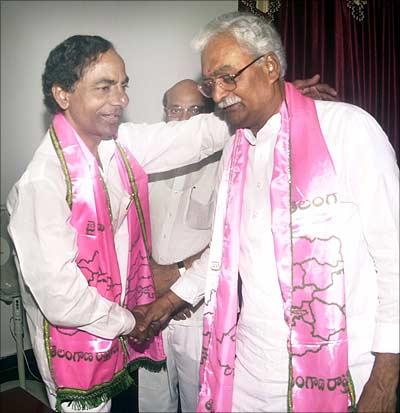 Telangana Rashtriya Samithi president and former Union minister K Chandrasekhar Rao on Tuesday announced his resignation from the Lok Sabha.
KCR said that accepting the challenge of senior Congress minister M Satyanarayana Rao and Andhra Pradesh Congress committee chief K Keshav Rao, he had decided to quit.
Veteran Congress leader and Minister for Sports and Culture M Satyanarayana Rao on Tuesday reiterated that he would quit the state cabinet and the state assembly if KCR accepted his two pre-conditions.
Reacting to KCR's announcement about resigning the Lok Sabha membership following the challenge by him, Satyanarayana Rao told newsmen that he stood by the two pre-conditions that he had set along with his offer on Monday.
"KCR must clarify on my two pre-conditions. I had stated that KCR must quit the Lok Sabha and contest against me from Karimnagar. If I lose, I will take political sanyas and if he loses, he should quit politics and retire to his palatial house and never talk about Telangana issue in the future. If he accepts my two pre-conditions, I am ready to quit the ministry and the assembly today itself," he said.
Image: K Chandrasekhar Rao (left) with his colleague A Narendra on September 12. Both had earlier quit the Union Cabinet on August 22 after the Congress-led UPA govt failed to give a firm commitment on a separate Telangana state.
Photograph: Snaps India