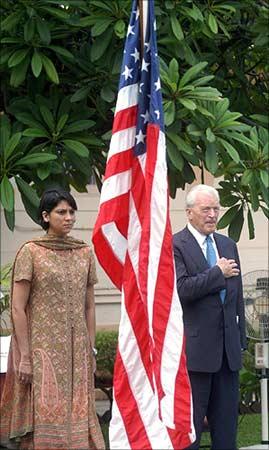 Expressing solidarity with India in its fight against terror on the fifth anniversary of the 9/11 attacks, the United States Monday said the two countries had rapidly increased anti-terrorism co-operation in terms of sharing sensitive information to combat the menace.
"India and the United States are rapidly improving anti- terror co-operation and we will do all we can to bring justice to the victims of terror. We are sharing sensitive information regarding police, forensic and disruption of terrorists' financial network," US Ambassador David Mulford said in Mumbai at a ceremony to commemorate the 9/11 victims.
"We understand all too well the pain and loss caused by terrorism in India. India has suffered repeated terror attacks in Delhi, Mumbai, Srinagar and the North Eastern states," Mulford added.
Remembering the 9/11 victims, Maharashtra Chief Secretary D K Sankaran pointed out it was also the 100th anniversary of Gandhi's satyagraha movement that he launched in South Africa. "Today we see a conflict between terror and non-violent satyagraha that Gandhi propagated. It does not take much time to realise that in the long term the terrorist's designs will not succeed and that good will triumph over evil," he added.
Also present at commemoration ceremony were Mumbai North East MP Priya Dutt, state Director General of Police P S Pasricha and Mumbai Police Commissioner A N Roy.
Image: US Ambassador to India David Mulford and Mumbai MP Priya Dutt at a  commemoration ceremony for the 9/11 victims in Mumbai on Monday.
Photograph: Arun Patil
Also read:
With a heavy heart, America marks 9/11
Gandhian way to mark 9/11 in Washington, DC