A
nais Nin
once said we don't see things as they are, we see them as we are. The Indian perceptions of the death of Baloch leader Nawab Akbar Bugti in Pakistan seem to endorse this observation.
There is no denying that Balochistan is passing through a high degree of volatility, but it is yet another thing to view it in apocalyptic terms. Comparable in many respects to the seamless violent separatist movements in India's northeastern region, the Balochi insurgency may also continue to simmer for a long time.
The subcontinent's political culture arguably makes allowance for such bloodshed. India and Pakistan are not like China, which puts primacy on creating a peaceful environment in which meaningful growth becomes possible.
But comparable to the will and determination of the Indian State not to kneel down in front of the bloody militancy in Jammu and Kashmir no matter the costs involved in human and material terms and no matter how long it takes, Pakistan will also have the grit to hold on to its restive province of Balochistan.
Several factors work to the advantage of the Pakistani authorities.
There are severe limits to outside interference in Balochistan. Iran, which shares a long border, views Balochi nationalism with deep disquiet. Iran too faces severe challenges to its national unity from sub-nationalism and ethnicity.
At any rate, the upswing in Iran-Pakistan relations in the recent period and Iran's heavy dependence on Islamabad's goodwill in the event of a showdown with the United States are factors at work.
Afghanistan may, like India, indulge in hyperbole about the 'aspirations' of the Balochi people but is hardly in a position to be hostile toward Pakistan. Actually, Washington does not seem to like even the occasional pro-Balochi rhetoric on the part of Hamid Karzai's government in Kabul.
Last Thursday, in a Washington-datelined commentary, US-government owned Radio Free Europe/Radio Liberty advised Karzai: 'The Bugti affair once again brings attention to the need for Kabul not to exacerbate its already troubled relationship with Islamabad. While Pakistan needs to accept Afghanistan as an independent country -- one not subservient to its demands -- Kabul has to be careful not to play the Pashtun and Baloch card or get involved in the Indian-Pakistani games so much that Islamabad goes on high alert.'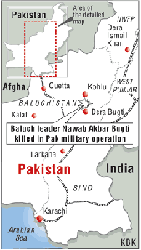 The fact of the matter is that like in the case of Jammu and Kashmir, the so-called 'international community' is hardly interested in redrawing the map of Pakistan at the present juncture of regional and international situation.
Conceivably, Islamabad judged that the present moment is an opportune moment for a crackdown in Balochistan. And, correctly so. Indeed, the 'international community' has largely remained impervious to Bugti's death.
It cannot be otherwise. As far as the 'international community' is concerned, Pakistan's importance as a strategic partner has never been as high as today.
Pakistan is a key player on several theatres of strategic interest to the West, the United States in particular -- the crisis in Afghanistan, the Al Qaeda problem, the Iran nuclear issue, the emergent 'Shia crescent' in West Asia, the role of NATO as the underpinning of regional security, and so on.
Just look at the traffic. In the recent months, as many as 18 Canadian delegations visited Islamabad. There have been 40 official visits from Britain and '30 to 35' delegations from the US. (These do not include military delegations).
The Western delegations have had similar goals in Pakistan -- how to beef up the war on terror in Afghanistan. Lately, Western governments have sought unprecedented cooperation from their key Pakistani ally.
Canadian Defence Minister Gordon O'Connor, who visited Islamabad over the weekend, revealed: 'Among other things, I suggested (to military and intelligence officials in Islamabad) that some Pakistani officers be stationed with our troops in Kandahar and Canadian troops be stationed on the Pakistani side.'
O'Connor summed up the growing dependence of NATO member countries on Pakistan's cooperation, 'I really appreciate what Pakistan is doing and they are doing a fantastic job. But in my ideal world, they could do even better because that way our troops (in Afghanistan) will be safe.'
The urgency for the West in ensuring optimal cooperation from Islamabad is self-evident. There is no mistaking that the stakes are high. Nothing less than the future of NATO as the fountainhead of trans-Atlanticism is on the firing line.
From Washington's perspective, NATO simply cannot afford to fail in Afghanistan if it is to aspire as the sole security alliance with a global reach.
Lieutenant General David Richards, the commander of the NATO forces in Afghanistan, was on record last week that 'we have to show in the next six months that the (Kabul) government is on the winning side.' That is a very tall order by present reckoning.
As the Afghan endgame approaches, Pakistan is likely to find a receptive Western audience vis-à-vis its own minimum 'demands' -- greater clarity over Durand Line, a Pashtun-dominated government in Kabul that is friendly toward Pakistan, etc.
Certainly, at a minimum, this is not the time that the 'international community' will be interested in destabilising the political equations within Pakistan, leave alone conspiring to bring about a 'regime change' in Pakistan.
There is always an inherent danger for outsiders in making judgments regarding Pakistani politics based on that country's marginalized (but vigorous) intellectuals. The English-language press in Pakistan is admittedly more adventurous and high-spirited compared to its Indian counterpart. It undoubtedly makes engaging reading, but that's about it.
Again, it is not as if retired army generals in Pakistan cannot have affiliations with the political opposition. The utterances of Lieutenant General Asad Durrani, Lieutenant General Hamid Gul or General Mirza Aslam Beg may make fine copies, but how representative is their cynical arrogance?
There is enough evidence to show that after paying due homage to Bugti, influential sections of Pakistani politicians would like to move on. The president of the ruling Pakistan Muslim League and former prime minister Chaudhry Shujaat Hussein is talking of postponing Pakistan's elections beyond 2007. The Jamiat-e-Ulama-e-Islam hasn't left the government in protest over Bugti's killing. Nor has the MQM.
Bugti was a controversial figure. And his legacy remains far from certain. Meanwhile, serious contradictions come in the way of Balochi unity. The huge demographic shift in Balochistan following the influx of Afghan refugees cannot be overlooked either.
At the end of the day, of course, the million-dollar question will be whether Pervez Musharraf is able to carry the army top brass along. A distinguishing feature of the Musharraf era is indeed that he has been consistent in maintaining a sort of 'democratic centralism' in the decision-making process in Rawalpindi.
Thus, the corps commanders gathered for an unscheduled meeting in Rawalpindi on Sunday. Musharraf can be expected to move forward now on the basis of the brief he obtained from the collegium of corps commanders.
To be sure, Balochistan poses a major challenge to Musharraf's leadership. Political separatism and violence invariably form an explosive mix. But the odds are that the ship of State of Pakistan will survive -- and, equally so, Musharraf himself.
In other words, the Indian discourses on Bugti are increasingly wearing the look of reveries -- of dreams running ahead of time. They could be a momentary source of joy and ecstasy but ultimately would make enormous demand on Indian credibility.
M K Bhadrakumar is a former Indian diplomat.