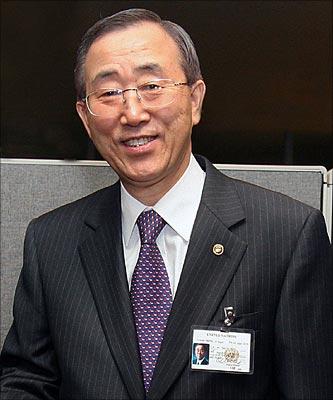 The Harvard-educated South Korean Foreign Minister Ban Ki-moon won the final United Nation's Security Council straw poll on Monday for the post of United Nations Secretary General and is almost certain to be elected to head the world body.
The amiable soft-spoken 62-year-old's first foreign posting was in New Delhi in the early 1970s. Since then he has steadily risen through the ranks in South Korea's diplomatic serrvice. 
Ban Ki-moon got 14 votes in the final straw poll. He did not get any 'discouraging votes,' but one country did not express any opinion. He had also won the earlier three straw polls.
India's nominee Shashi Tharoor got 10 'encouraging' votes and 3 'discouraging' votes, including that of a permanent member. Two countries did not express any opinion.
Immediately after the poll, Tharoor, United Nations Under Secretary General for Communications, pulled out the race and sent in his congratulations to Ban Ki-moon.
After the straw poll, China's Permanent Representative Wang Guangya said, 'It is quite clear from Monday's straw poll that Minister Ban Ki-Moon is the candidate the Security Council will recommend to the General Assembly.'
A new candidate can still come forward. But nobody expects such a move. United States Ambassador John Bolton noted that new candidates could still come forward but said he would be surprised if any did before Monday. Once the Security Council decides on the secretary general, the General Assembly has to make the final choice. But it is considered only a formality.
Photograph: Jay Mandal
Moon shines at UN, Tharoor quits race
Coverage: Tharoor's race for the UN Secretary General