Mohammad Armaan Qamar
Dr Vishal Sharma
University College of Medical Sciences, New Delhi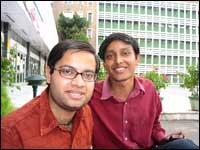 Armaan (right) is the son of well-to-do parents based in Kolkata. He is one of the leaders of the anti-reservation stir in New Delhi.
He is in the sixth semester and has been engaged in planning, executing and leading the agitation since the second week of April.
His senior, Vishal, is the son of a teacher in Chandigarh and is part of the core committee that is driving the stir.
Both young men poured their hearts to rediff.com They spoke with the passion, confidence, determination and innocence that is the hallmark of youth.
Armaan: Around one-and-half months back, two or three students from each medical college sat to discuss the announcement made by Human Resources Development Minister Arjun Singh that 27 per cent seats will be reserved for Other Backward Classess.
I read the headline in The Times Of India. We thought that as responsible students and responsible citizens of the country, let us do something.
Then, we spoke to medical students of the Lady Hardinge College, All India Institute of Medical Sciences, Maulana Azad Medical College and Vardhman Mahavir Medical College of New Delhi. Their response was optimistic.
In the beginning, we didn't think this anti-quota movement would become so big. We never thought it would travel beyond the capital.
This issue put enormous pressure on the UPA government.
Vishal: Many Indian states already have OBC quota so we didn't expect the rest of India would respond like this.
Medical colleges across the nation have joined us. The response from the IITs and IIMs has been a bit low. Because those who get their BTech from IIT, normally go to study abroad or go to IIM. They are not primarily affected by quota in post-graduation seats.
IIM seats are being increased so they care less. But I am a medical student studying in UCMS (University College of Medical Sciences) where in the past ten years, the total number of seats that have increased is ten! Where are the new seats going to come from? The government can't manage that.
'We can't build the nation with a 19th century mindset'
Before our agitation, the government wanted to take those OBC seats out from the general seats. That would have been disastrous. But now, the government says correspondingly seats will be increased. Actually, this is the huge victory of students.
Armaan: We never planned this stir in a big way. Since Arjun Singh made the final announcement, he was our obvious target. We planned that we will work through the Internet and created this blog -- www.youthforequality.blogspot.com
Our senior colleague Dr Vivek Nautyal coined the words -- 'Youth For Equality.' We debated a lot. Youth for Justice, Youth For Merit, Scientists For Merit, and Intellectual Deaths -- many names were discussed.
We have many girls in our team. Amitasha Sinha, Supriya, Neha and others are leading the stir. Many OBC, Scheduled Caste and Scheduled Tribe students and doctors are supporting us.
We prefer reservation for people who deserve it. It's not that we don't have a conscience. We do care for the poor, those who really need help. We should have reservation on the basis of economy.
In our General Body meeting, OBC students also said this government is just trying to divide society by undermining the need for merit and giving crutches to people who don't need it.
We think even in the general category, there are people who are underprivileged. There are underprivileged people on both sides. Let us give reservation on the basis of economic criteria.
'No need for quota at postgraduate level'
Vishal: Aru Panwar was the topper in my batch. He was a brilliant student and now his caste falls under the OBC bracket. He is very concerned about the new quota.
I have a junior, Harikishan Suthar from Rajasthan. He has cleared India's toughest exam -- the Pre Medical Entrance Exams and Tests where 200,000 to 500,000 students appear for 1,500 seats. He was amongst the top 100 students in the exam. He comes from a small village of India. When I spoke to him he said yes, quota might be needed and it is needed because no past or current government in India has provided them quality primary education.
Urban areas have good private education or public schools. He says the government provides primary education in villages which is of poor quality. Till the time primary education system is changed and better education is made available in the villages to people of the backward class, he says, there will be some demand for reservation.
But Harikishan also says that quota is not the final solution. The final solution lies in providing quality education in Indian villages. We feel some arguments like giving them 'honour' might be true in the case of tribals and Harijans but Jats and Yadavs, do they need special attention in society?
Lord Krishna was a Yadav! Now Yadavs are under the OBC category. Didn't Yadavs always have social honour? Why reward them?
Armaan: The first and foremost point that we repeat is that we stand for merit. Quota politics completely undermines merit. Just for the sake of vote-bank politics, politicians are dividing society on the basis of caste.
Vishal: Any quota which is ascertained on the basis of caste only accentuates casteism in society. Let us have quota, but let not caste be the criteria. Let us keep income as the criteria.
Even after 60 years of quota raj, we have not reviewed its advantages so that means it is a gimmick.
Armaan: What we are asking from the government is very feasible. We are asking not to implement the OBC quota until a non-political judicial committee looks into all aspects. The government and people should know what is the efficiency of the reservation policy and what are its lacunae.
The government says they will increase seats in medical colleges. It is not easy as increasing classrooms and desks. Here modifications are huge and you need faculty members, which can't be increased overnight.
We may be few but we will carry on our fight. The movement is not just under this tent; it has spread in the entire country.
When we talk about merit, don't bring in caste. We are fighting for quality. Give them some financial help, a better primary education. We are all for it.
Y4E's demand is not for the revocation of all reservation policies. We want experts to tell us if these quotas are useful? Can more people be brought under its ambit and why?
'The middle class only bothers about itself'
Vishal: As part of the delegation I have met (Union ministers) Oscar Fernandes, P Chidambaram and Pranab Mukherjee. My colleagues have met Arjun Singh in early April.
It was not a very good meeting. Arjun Singh was not ready to discuss the issue at all. He told us we should postpone the agitation because the assembly election was on. After the election he said publicly that the decision on reservation was not reversible.
That ten minute meeting was not a meeting at all. The media was present, we were there and he was sitting opposite us. He said something that meant nothing. When we meet deans, bureaucrats or seniors, they are open and talk about what all is possible. But politicians are tied up. They never open their hearts.
After meeting so many of them I agree with what people generally say that politicians are heartless people. It is not that they lack arguments but they are stubborn people. They call us anti-reservationists and say we are not ready to think about other people but unfortunately politicians are not ready to think about us.
Mr Chidambaram said personally he would agree with our 'Creamy Layerwala funda' (rich and powerful amongst the backward castes) but then he said MGR (the late chief minister M G Ramachandran) in Tamil Nadu thought about the creamy layer issue for one year but could not arrive at how to define the creamy layer!
Yes, we do think it is not easy to define the creamy layer, although we keep talking about it. Chidambaram said South India has prospered with 70 per cent reservation and this reservation have been there for more than 80 years.
So I asked him: 'Sir, if it has there for long, why are you continuing with it because by this time society must have been uplifted?' He just said let the Tamil parties and assembly decide how to go on.
Pranab Mukherjee didn't talk much when we met him.
'What more do upper castes want?'
Armaan: All the politicians we met turn out to be pro-reservation. When we met Oscar Fernandes I found that he was completely against us.
Don't try to put the tag of anti-quotawallahs on us. If I, as a poor student, need money, books, clothes and infrastructure to study further why is the government not coming forward? Why have quota on basis of caste? Why?
As told to Sheela Bhatt. Photograph: Sheela Bhatt