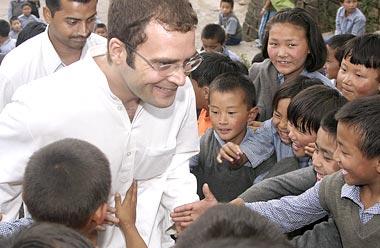 Congress MP Rahul Gandhi with children at the Tibetan Children's Village School in Dharamsala after his meeting with the Dalai Lama in Mcleod Ganj on Tuesday.
During the nearly 45-minute meeting, Gandhi and the Tibetan leader are said to have discussed the old relationship between India and China.
The Dalai Lama congratulated AICC president Sonia Gandhi on her spectacular victory in the recent Lok Sabha by-election in Rae Bareli.
"By submitting yourself to the electorate in this way, you have upheld and strengthened the principles of democracy," was his message to her through her son.
Later, Gandhi also met Samdhong Rimpoche, the head of the government in-exile.
Photograph: STRDEL/AFP/Getty Images