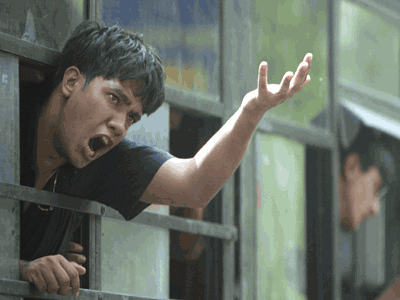 A day after medical students protesting over the reservation proposal in higher centres of learning were water cannoned in New Delhi, more than two dozen medical students were detained in south Mumbai after police resorted to cane-charging to disperse a gathering who staged a rasta-roko at Walkeshwar area of the city. 
Image: Quota protestors are cannon fodder
Students blocked vehicular traffic on the busy Walkeshwar road that leads to the Governor's and chief minister's houses on Saturday afternoon, leading to a huge traffic jam in south Mumbai, police said, adding, when students refused to disperse, police cane-charged the students and detained more than two-dozen of them.
Similar protests were also reported from Gujarat and Orissa.
Image: A medical student shouts anti-reservation slogans from a police van after being arrested during a demonstration.
Photograph: Manan Vatsyayana/AFP/Getty Images