In Tamil Nadu, one of the biggest pre-poll surprises has been Marumalarchi Dravida Munnetra Kazhagam leader V Gopalaswamy alias Vaiko quitting the Dravida Munnetra Kazhagam-led Democratic Progressive Alliance and joining the front led by the All India Dravida Munnetra Kazhagam.
It is shocking because AIADMK leader J Jayalalithaa was the one who imprisoned Vaiko under the erstwhile Prevention Of Terrorism Act.
In the first of a two-part interview with Shobha Warrier, the MDMK leader defends his decision, and urges people to forget the past.
The question that is being asked everywhere is, how could you think of having an alliance with Tamil Nadu Chief Minister J Jayalalithaa after she arrested you and put you in jail for 19 months?
Yes, that was what was on my mind when my party people suggested it to me. I knew people would ask this question to me.
During the MISA [Maintenance of Internal Security Act] detention [during the Emergency in 1975-77], the Congress party and the central government indulged in character assassination against the DMK, and it was portrayed as the most corrupt party.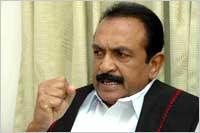 The DMK described Indira Gandhi as Lady Hitler. Two of the DMK cadres died in jail after they were arrested under MISA. I was also in jail.
Later, the Congress joined hands with the DMK. Is that not sheer opportunism?
They called Vajpayee and Advani fraudulent sanyasis, and said Tamil Nadu should not allow them to enter the state. But didn't they ally with the BJP [Bharatiya Janata Party]?
In 2003, the DMK and Dr Kalaignar [M Karunanidhi] started talking with the Congress even when they were with the NDA [National Democratic Alliance]. Is this not opportunism?
But the DMK alleges that even while you were with the DMK alliance, you tried to forge ties with the AIADMK.
The DMK tried to ditch me, crush me and destroy my party. My party is above my personal interest. My party cadres are my life because they stood by me when I was thrown out of the DMK. When the entire party wanted to go with the AIADMK, I had to agree with them.
Ours is a democratic party. I am not a dictator.
I have never hidden anything. I had told Kalaignar that my entire party wanted to go the AIADMK. You give us at least 25 seats, I will try to persuade them to stay.
But what did they do? I swear by the name of Anna [Tamil Nadu's first non-Congress chief minister, T N Annadurai] that on January 26, Karunanidhi promised me 25 seats.
When I went to meet him on February 22, he said I never promised you 25 seats. Even then, I thought he would change his mind. When I met Arcot Veerasamy, I told him, unless you keep the promise, I will leave and join the AIADMK alliance.
So, if they had given you 25 seats, would you have continued with the DPA?
Yes, I would have continued.
Even though your party cadres wished to be with the AIADMK?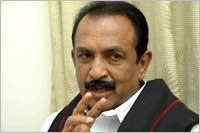 I would have tried to convince my cadres. That would have been a difficult job. But by the stroke of providence and destiny, good things happened.
On March 3, the DMK conference was about to commence. By 8 am, I spoke to Karunanidhi over the phone. While meeting the press earlier, he had said, 'I told Vaiko one or two [seats] may be reduced.'
I told him over the phone, 'Even if you reduce one or two, you should give me 23 or 22.'
He said [he would reduce] 'One, two or three.' I said, 'You never mentioned three earlier.' His answer was 'one plus two is three.'
I said, 'This is jugglery with words. I don't want to compete with you in this.'
I even begged him to give 23 seats but he refused. Then, he brusquely said, 'Let the conference be over. Then, let me think over it.'
By 1 pm, he met the press and said 22 seats would be given to the MDMK. The door was shown to me. It is an insult to my self-respect and the dignity of our party.
Our district secretaries called me and said we should not go with the DMK.
Karunanidhi later said even if he had given you 25 seats, you would have asked for one more and then left the alliance -- because you had decided that you would leave.
That is not true. He could have tried it. He could then have said, 'Vaiko asked 25, I gave 25. Even then he left.'
You know, intelligence used for good purpose will succeed but intelligence used with malicious intentions will backfire.
Weren't you worried about your credibility?
What credibility? I haven't compromised anything. It is an electoral alliance. I have not compromised on my principles or policies. In politics, parties with different ideologies forge alliances all over the country. You look at history -- didn't the communists support the Jan Sangh-turned BJP during the Janata Party rule [in 1977]? Did they then compromise on their ideology?
One question I want to ask is: Which is more important -- dynastic politics and family interest, or the welfare of the state?
These are the two things that will be before the electorate. Let the people decide.
And what if people too raise the question of why you joined Jayalalithaa?
POTA was launched by the BJP, and not Madam Jayalalithaa. My party men were in the [Union] ministry, and that was a mistake.
But she was the person who used POTA.
Yes, she used it.
And, you called her a fascist then.
Yes. These are all part of the game. It has happened. Let us forget the past. If you stick to the past, no political party can forge an alliance with any other political party. So, I will tell the public, let us forget the past.
Photographs: Sreeram Selvaraj
Don't miss the second part of the Vaiko interview on Monday, where he talks about how Sun TV blacked him out and describes in detail how he was forced to abandon the DMK!