Naxalites on Tuesday morning released the Barwadih-Mugalsarai passenger train, which they had held captive since Monday evening near Heyagarha railway station in Jharkhand's Latehar district and all passengers were safe, a top police officer said.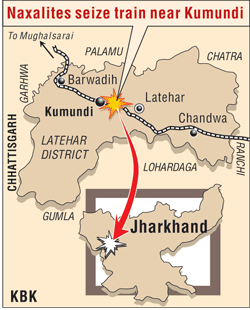 "Around four hundred security personnel have reached the spot and all passengers, the driver and the guard are safe," Inspector General of Police (Special Branch) B C Verma said.
The engine of the train has been partially damaged, he said, adding that the train will resume journey after carrying out the necessary repair work.
The bogies of the train had bullet marks, police sources said, adding however that, "No passenger was injured or abducted by the ultras. The exact number of the ultras involved in the incident was not known as the train was captured in a thick forest area under the cover of darkness," police said.
Communist Party of India (Maoist) rebels had stopped the train on its way from Barkakhana in Jharkhand to Mughalsarai in Uttar Pradesh close to a thick jungle between Heyagarha and Kumundi stations at around 7.30 pm.
Police said the naxalite action was in protest against the death of one of their self-styled commanders, Jagannath Koiri, in a police encounter in Palamu district on March 3. The incident took place in the midst of a 24-hour bandh called by the naxalites in Palamu division, which covers Latehar district to protest against the incident.
According to passengers, about 45 naxalites who had laid seige to the train, left the spot without harming them as the day broke.
Stating that police were the target of the CPI(Maoist) activists and not the passengers, DIG (Palamu Range) Ram Lakshman Prasad said the forces comprising CRPF and state police had taken all precautions while reaching the spot.
Superintendent of Police, Latehar, Subodh Prasad said the train reached the Latehar station at around 9:30 am, with hundreds of securitymen along with about 50/60 passengers. The train left the spot near Heyagarha station and reached Kumundih at around 8 am before heading towards Latehar, Prasad said.
DIG (Palamu range) Ram Laxman Prasad earlier said that some of the passengers had left the spot on their own after day break, and the patrolling police came to know about the fate of the passengers from them.
One of the passengers said a couple of youths removed the vaccuum between bogies, causing the train to screech to a halt and enabling the extremists to stop the train for nearly twelve hours.
"We waited patiently the whole night. They (Naxalites) did not harm us," another passenger told the waiting newsmen at Latehar station.