In mountainous North Waziristan -- part of Pakistan's Federally Administered Tribal Areas -- where fierce battles are raging between Pakistani security forces and suspected Taliban and Al Qaeda militants, Baitullah Mehsud is the equivalent of Mullah Omar.
There are many similarities between Mullah Omar, the supreme commander of the Taliban -- one of the people closest to Osama bin Laden -- and 30-year-old tribal leader Baitullah. There are almost no photographs of both men. Both vow jihad. Both live from hideout to hideout.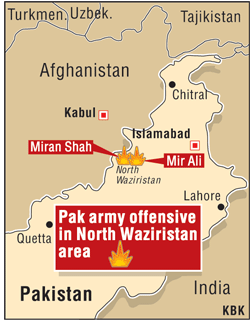 Baitullah calls himself a Talib and swears by Mullah Omar, despite signing a deal with the Pakistani army in February 2005, in which Baitullah and three other tribal leaders promised the government they would not support or shelter Al Qaeda terrorists.
Intelligence sources say Baitullah's Taliban ties run deep.
"After the death of Nek Mohammad, Baitullah was appointed as Mullah Omar's governor of the Mehsud tribe in a special ceremony attended by five leading Taliban commanders. One of them was Mullah Dadullah, who tried to kill (Afghan President) Hamid Karzai," says a top source in Pakistani intelligence.
Other sources say the Pakistani army does not take any action against Baitullah because he has assured them that he will not attack the army and will not 'harm Pakistan' in any way.
But another intelligence source contradicts this claim.
"Mullah Omar has paid Baitullah Mehsud $70,000 to mastermind attacks on diplomats of countries involved in the publication of sacrilegious cartoons of Prophet Mohammed," says the source.
"Baitullah is expected to meet Mullah Omar soon to chalk out a plan," the source adds.
Like Mullah Omar's Taliban, Baitullah's private army imposes Shariat (strict Islamic law) in North and parts of South Waziristan.
In North Waziristan, Baitullah runs a parallel government.
He has forced all schools to shut down. In neighbouring Afghanistan too, his men regularly set fire to schools. The porous Afghanistan-Pakistan border sees many Taliban fighters and leaders shuttling back and forth.
Recently, Pakistan and Afghanistan have been trading charges over terrorist camps on the Pakistani side of the border. Pakistan President Pervez Musharraf has alleged that the Afghan list of camps is outdated.
Like the Taliban, Baitullah's 20,000-strong private army -- which according to experts has hundreds of foreigners, mostly Uzbeks -- has a task force that prevents 'vice' and promotes 'virtue.'
Music, videos, female education are haram (sacrilege), the task force has declared. Vehicles are routinely checked, and if one is found having a music system, Baitullah's army thrashes the owner and confiscates the vehicle.
Barbers have been ordered to display notices outside their shops saying they don't shave beards, as it is against the Shariat.
Bin Laden in Pak's Waziristan region: Report
The deeply religious local people don't go to courts to settle disputes; instead they approach him.
Baitullah's writ runs in parts of South Waziristan too.
"Earlier I would shave my customers, but now I don't. Because if I do, my shop will be torched and I will be punished to death by Baitullah Mehsud," says Hayatullah, a barber in Makeen, South Waziristan Agency.
Hayatullah says about three months ago, Baitullah ordered a couple -- who had committed adultery -- to be stoned to death.
"Baitullah receives money from Al Qaeda and the Taliban to run the affairs of his 'parallel State.' People dance to his tune. On his command, they can sacrifice their lives," says the editor of a Peshawari newspaper who wishes to remain unnamed.
Baitullah has used local clerics and illegal FM radio channels -- reportedly there are about 20 of them in Pakistan's Federally Administered Tribal Areas -- to enforce his writ.
"It is a question of how you look at things," says a major in the Frontier Constabulary, who avers that the jirga is part of tribal tradition and cannot be equated with a parallel government.
"People in tribal areas were already keeping beards. The women were already in purdah. So, you can't say that a Taliban-like Shariat has been imposed," the major adds.
No Al Qaeda base in Pak: Musharraf
Baitullah signed a peace agreement with Peshawar Corps Commander Lieutenant General Safdar Hussain on February 7, 2005, in Sararogha, South Waziristan Agency.
Analysts say the Pakistan army was forced to sign the deal.
In the hunt for Al Qaeda operatives in the tribal areas, the Pakistan army was losing men because they were easy prey for tribal armies like Baitullah's, who were familiar with the FATA terrain.
The Pakistan army did not have local support. Baitullah's men targeted people who were helping the army. The truce bought peace for the army.
The deal was signed on Baitullah's terms. He refused the army demand for compulsory registration of foreigners. Reportedly, he even swore allegiance to Mullah Omar in front of the general who negotiated the deal.
Baitullah refused to be photographed when the agreement was signed. Till date, he has not given any interviews either, although he has issued statements to the media from time to time.
Pakistanis capture 100 terrorists
Afghan Taliban Commander Saif-ur-Rehman -- who is suspected to have given shelter to Osama bin Laden some time ago -- supports Baitullah, says Rahimullah Yusufzai, an expert on Afghan affairs.
"The Musharraf regime supports Baitullah. It believes that Baitullah's Taliban-like Shariat has imposed peace in the area," says a Peshawar-based analyst.
"That is the reason the North West Frontier Province governor announced February 23 in Miran Shah that he has suspended military operations in North Waziristan. This is a confession of the government's defeat and Baitullah's victory," the analyst adds.
Pak uses gunships against militants in tribal area
Aslam Awan, a journalist with the jihadi publication Weekly Takbeer, says Baitullah set up a special task force in June last year to crack down on criminals, thieves and robbers in South Waziristan.
"This force launched a number of crackdowns and made a feared kidnapper Abdul Rashid Bakakhel free some of his hostages. Baitullah also collected donations from the local people to establish peace. It was a kind of protection money," Awan continues.
"Baitullah succeeded in establishing peace in the area. Thus, the local people started trusting him. Unfortunately, the Pakistan army failed to take action against Baitullah's private army that has taken up the duty of establishing the law and order in the area. Pro-government and pro-US tribal people are being killed in Waziristan. This is a very alarming situation," Awan adds.
"Baitullah's lashkar (army) is very organised. He has divided it into various units and assigned particular tasks to each unit. One of the units been tasked to kill people who are pro-government and pro-US and support the US occupation of Afghanistan. The last person to be killed was Malik Arsallah Khan, chief of the Khuniakhel Wazir tribe, who was killed on February 22 in Wana (in South Waziristan)," says a source in the Frontier Constabulary.
M I Khan, a journalist with the Nida-i-Millat, describes how Mehsud kills pro-government tribal leaders.
"First, he would confirm that the guy is an informer and then he would send him a Rs 1,000 note along with a thread and a needle, telling the person to buy and have his kafan(shroud) stitched within 24 hours," Khan says. "And the guy is murdered within 24 hours."