The Supreme Court on Wednesday severely reprimanded Best Bakery case key witness Zaheera Sheikh, who had turned hostile during the trial, for her 'flip flops' and sentenced her to one year simple imprisonment with a fine of Rs 50,000 for contempt of court.
Complete Coverage: The Gujarat Riots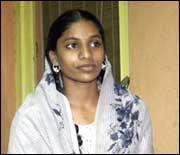 Accepting the report of the high-powered inquiry committee, which had indicted her as a 'self-condemned liar,' a bench comprising Justice Arijit Pasayat and Justice H K Sema said in case of default of payment of fine, Zaheera will undergo further imprisonment of one year.
Justice Pasayat, who read the judgement, said, "This is a classic example of a case where evidence were tampered with and witnesses won over."
Disapproving the conduct of Zaheera in the case, the bench directed the Income Tax authorities to attach her assets and bank accounts for three months. It also asked the Income Tax authorities to initiate proceedings to ascertain her source of income since year 2000 till today.
The court said the proceedings against Zaheera will be initiated in accordance with law and directed the Commissioner of Income Tax, Vadodara, to take appropriate action.
The Bench left it open to income tax authorities to inquire into the alleged sting operation showing controversial Bharatiya Janata Party legislator Madhu Srivastava and Congress Corporator Bathu Srivastava talking about payment of money to Zaheera.
While delivering the judgement, the bench spoke at length the role of witnesses in criminal trial as well as the role of court in dealing with the witnesses. "The court should not be a tape recording machine but play a participatory role," the bench observed, adding, "We find that people have started feeling that criminal trials are like cobweb where small flies are getting caught and big people are dashing through."
Expressing concern over trend of people losing faith in criminal trial, the bench said, "Courts have an over-riding duty to maintain public confidence and uphold the majesty of court."
The bench also spoke about the role of investigating officers and affect of defective investigation of case and said it is the duty of the court to find out truth. The court on January 10, 2005, had referred the matter for inquiry on being faced with the flip-flop of Zaheera much to the embarrassment of her one time protector and social activist Teesta Setalvad.
The then Registrar General of the apex court B M Gupta had enquired about allegations and counter allegations between Zaheera and Setalvad. The Committee, which had submitted its report on August 29, 2005, gave a clean chit to Setalvad on charges of inducement levelled against her by Zaheera.
Photograph: Deepak Salvi