At least 20 persons were killed and over 50 injured when two blasts rocked Varanasi on Tuesday evening.
According to the police, two blasts occurred almost simultaneously at about 6.30 pm. The first blast took place at the Sankat Mochan Hanuman temple that was crowded on Tuesday, believed to be a special day for Lord Hanuman.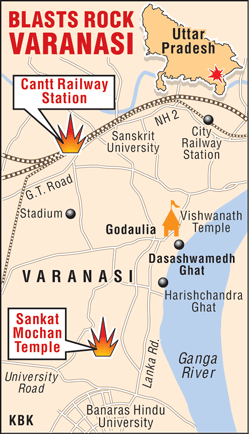 Panic prevailed at the temple  with  at least 10 persons dying on the spot while about 40 were wounded. "Ten of the wounded are critical," a hospital official said.
A similar explosion in the waiting area of the Varanasi railway station followed the temple blast. A bomb went off outside the station master's room at the railway station, leaving five dead and about 20 injured.
Another live bomb was unearthed in Gudaulia  residential locality. "It was diffused by the bomb squad," police said.
According to Varanasi Senior Superintendent of Police Navneet Sikera, "The blasts were big and we would not rule out more casualties."
Ammonium Nitrate was used in the bombs, official sources said. They were connected to timer devices that were set to go off in a serial manner.
Sikera also does not rule out a terrorist hand behind the blast. "What else could it be?" he asked. "I would not be surprised if it were some kind of a retaliatory act by Lashkar-e-Tayiba, as we had nabbed one of their agents in Varanasi in February," Sikera sought to add.
The suspected  LeT agent was handed over to West Bengal police as the Bengal police had alerted them about the accused.
Sikera was unable to give any further details of the blast . "Our priority is to ensure maintenance of law and order and to see that peace and harmony is not disturbed," he added.
While the injured have been rushed to the Benaras Hindu University hospital, the entire temple complex has been cordoned off.
Sheela Bhatt adds from New Delhi:
A top intelligence official said that two live bombs were recovered from the city -- one at the Godalia crossroads and one at the famous Gangaghat.
Intelligence sources added that a reason for the temple being so crowded was a wedding ceremony in the temple between a Nepali girl and a Bihari boy.
The Sankat Mochan temple is the oldest Hanuman temple in Varanasi.
It is said that Saint Tulsidas established two temples in Varanasi and this Hanuman temple is of great value to people who follow the saint's Ramcharita Manas.
"Every Hindu visitor to our city goes to this temple," Dr Rakesh Mazumdar, a resident of Varanasi told rediff.com.
In India, millions of Hindus are followers of Bajrangbali (Lord Hanuman) and the Sankat Mochan temple is a sacred spot for them.
Mazumdar said, "Even Amitabh Bachchan celebrated wife Jaya's 50th birthday here."
Anil Mishra, a senior journalist with Hindustan newspaper said, "Residents of Varanasi were aware of terrorist threats in city. In the last three months, three Lashkar-e-Tayiba terrorists were caught and the police knew that city is under risk. But it looks like not enough security measures have been taken."
The temple is run by the Sankat Mochan Foundation, which is headed by Veer Bhadra Mishra, who was named by Time magazine as one of the Heroes of the Planet in 1999 for his work in cleaning the Ganga river.
The Benaras Hindu University Hospital helpline number: 0542-2369242