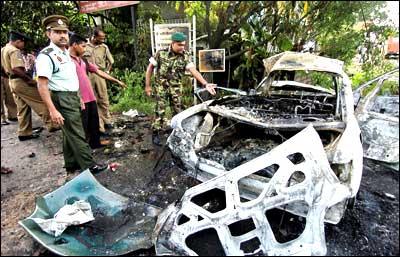 A day after Sri Lankan President Mahinda Rajapaksa offered the Liberation Tigers of Tamil Eelam a deal for direct talks, the Tigers let him know what they thought of the offer.
On Monday, they assassinated a senior army general in a deadly explosion that killed three others and injured several others.
Major-General Parami Kulatunga was driving along a highway when the bomb, set on a cycle, exploded at Pannipitiya, a suburb of Colombo, during the morning rush hour.
Rajapaksa's initiative comes amid an upsurge in violence that has seen more than 815 people killed since his election in November and threatens to derail a ceasefire signed by a previous government in 2002. Norwegians monitoring the truce have said the ceasefire, signed in 2002, is only on paper.
Norway, which failed to bring the two sides together for talks earlier this month, is expected to meet on Thursday with other truce observers to decide the future of the ceasefire monitoring mission.
Also Read: Mandapam survives on refugees
Complete coverage: The war in Lanka
Image: The mangled remains of the white Peugeot in which Major-General Parami Kulatunga was traveling.
Photograph: AFP/Getty Images