As Sri Lanka heads for yet another civil war, Tamil refugees have begun fleeing the fighting and taking shelter in Tamil Nadu.
Special Correspondent A Ganesh Nadar traveled to Mandapam to speak to the refugees and find out what is going on in northern Sri Lanka.
The first of a four-part series.
They call it Black July. The date: July 23, 1983. What happened that day changed the face of Sri Lanka forever. It marked the beginning of full-scale ethnic war -- an armed struggle between the minority Tamils and Sinhalese majority. Approximately 3,000 Tamils were killed, thousands of homes destroyed and a wave of Tamils forced to seek refuge in other countries.
Little has changed since. There has been on-and-off civil war, mostly between the government and Liberation Tigers of Tamil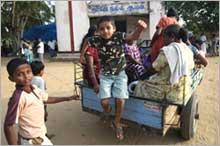 Eelam, who want to create an independent nation of Eelam in the north-east part of the island. According to estimates, this war has left 65,000 dead, apart from drastically damaging the economy.
Right: Sri Lankan Tamil refugee children arrive at the Sacred Heart Church in Mutur, near Trinconamalee, Sri Lanka.
In February 2002, a Norway-sponsored peace accord was put into place. However shakily, it lasted just four years. Peace talks now supposed to take place in Oslo have almost broken down. Fearing war yet again, the people have begun to flee.
In the last month alone, more than 2,000 Sri Lankan Tamils have crossed over to India. The distance from Thalaimannar in Sri Lanka to Dhanushkodi in Rameswaram, India, is a mere 18 kilometres. It is a hazardous 18 kilometres though. The refugees have to dodge the Sri Lankan and Indian navies, apart from dealing with the many dangers nature poses.
To go into the sea in pitch darkness -- with no navigating lights, radar or modern gadgets -- requires either courage or desperation. Here, it is desperation that drives these people across with their families. There are many reasons for their coming over, but the primary ones are the proximity and a common language -- Tamil.
R Ramesh is a 26 year old who has been married for two years. Scared of the Sri Lankan army, he left his home in Triconamalee and came to India with his wife and 2-year old child.
"On the pretext of looking for LTTE cadres or sympathisers," he says, "anyone can be arrested there at any time."
He alleges the Sri Lankan army is capable of planting weapons in the neighbourhood, and then arresting you for possession.
Ramesh covered the 18 kilometres from his village to Thalaimannar by bus. The fare was around Rs 200, but the bus was checked by the army and, eventually, each person had to pay Rs 10,000 to get across the Palk Straits. The short distance took four-and-a-half hours to cover.
After their arrival in India, the refugees were taken to the nearest police station, registered and sent to the Mandapam relief camp. While Rameswaram is an island, Mandapam is on the mainland, about 20 kilometres from Rameswaram.
At the camp, Ramesh was interrogated by the police again, and then given quarters to live in. He is hoping to find a job, but has been unsuccessful so far. Back home, he worked as a fisherman. His family owned a motorised boat. His elderly parents and brother still live there. He arrived in India with two sovereigns of gold and Rs 2,000 in cash.
Ramesh's wife Sumita is a graduate in economics. She was educated in Tirunelveli, Tamil Nadu, as was her husband. He came to Tamil Nadu as a 10 year old in 1990 and stayed on until 2004, although he studied only till Class 10. At the time, he lived in a camp in Tirunelveli. He thinks it will be easier to find a job at the old camp, than at Mandapam.
S Selvaraj is a shopkeeper from Trinconamalee. He had a rough landing on the shores of Rameswaram as the boat he was in was spotted by the Indian Navy. All aboard were asked to get out in chest-deep water and walk, he says, and they lost most of their belongings in the process.
Below: A refugee family in Trinconamalee, Sri Lanka. In the last month alone, more than 2,000 Tamil refugees are estimated to have crossed over to India.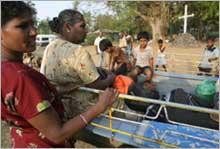 Selvaraj first came to Tamil Nadu in 1985 and went home in 2004 after peace returned to Sri Lanka.
During his last stint in Tamil Nadu, he stayed at camps in Mandapam, Madurai and Tiruchi, making his living as a real estate broker. All his four children were born in India. His brother-in-law asked them to return to Sri Lanka in 2004 and also sent them money for the trip. He has now admitted his children to a school inside the camp. They study in classes 10, 8, 6 and lower kindergarten respectively.
G Gnanaganesan, 62, is a fisherman from Trincomalee. He has come with his wife, son and daughter. He was in India from 1985 to 1988, after arriving by boat at Nagapattinam. He was happy with the peace accord while it lasted. According to him, fighting accelerated after the new President Mahinda Rajapakse came to power.
As his family lived in an army-controlled area, they always feared reprisals. "If there was any disturbance elsewhere and army men were killed, they would come and shoot us. If they lost 10 people, they would kill 10 of us," he says. Another reason he left was because fishing was not allowed, for security reasons.
R Sashimary, who comes from a small village near Vavuniya in Sri Lanka, has just completed her Class 12 here. She came to India in May 2000 and has been studying here from Class 7. She was accompanied by her mother and elder sister, and cannot recollect her father.
Her elder sister works for a non governmental organisation in Chennai. Sashimary is learning computers and hopes to get a job after completing the course. Her mother works on building sites as a labourer. The teenager has no intention of going back and says she likes it here.
S Masilamani taught tailoring in Thalaimannar, Sri Lanka. To augment her income, she used to sew dresses. She came to Tamil Nadu in 1989 with her husband and four kids. Her daughter went back first, followed by her husband and two children. She has stayed back with her son, who is in his third year at an engineering college in Andipatti, Tamil Nadu, former chief minister J Jayalalithaa's constituency.
"I plan to go back when he finishes college," she says, "but Sri Lanka should become peaceful." She continues her work as a tailoring teacher at an NGO and phones her family regularly.
Denied security in their homeland, they lead lives in exile. They spend their days trying to build their lives. At night, they dream of peace.
Photographs: Prakash Singh/AFP/Getty Images