Abu Musab al-Zarqawi, the most wanted terrorist in Iraq, is dead, according to Iraq's Prime Minister Nuri al-Maliki.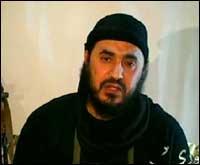 'Today Zarqawi has been killed,' al-Maliki told a press conference in Baghdad amidst cheers. Some reports said the terrorist, who owed his allegiance to Osama bin Laden's Al Qaeda, was killed in an air raid near Baghdad.
In Washington, DC, Pentagon officials told CNN that the government was awaiting al-Maliki's announcement before commenting on the report officially.
One official said the Pentagon was not sure of how the death was confirmed and that there might need to be 'additional forensics' done before they could be fully confident the terrorist is dead.
Similar reports about his death earlier proved to be false.
CNN quoted Iraqi state television as saying that al-Zarqawi apparently died near the city of Baquba, a volatile area northeast of Baghdad in Diyala province, a mixed Shiite-Sunni area.
Complete coverage: The war in Iraq
Al Qaeda has been blamed for scores of bombings that have killed hundreds of Shias and US forces in Iraq, said the BBC. The Jordanian-born al-Zarqawi appeared in a recent video recording, reproaching the US for its 'arrogance'.