Rekha Mahajan, whose family is the focus of current national attention, is surprisingly calm and poised, a family friend revealed on Tuesday.
This friend shared a few insights about the late Bharatiya Janata Party leader Pramod Mahajan's widow in an exclusive chat with rediff.com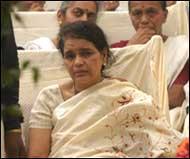 During her husband's meteoric rise to the national spotlight, Rekha was content to play the role of housewife. She had her share of problems, says the friend, but Pramod Mahajan was always there to share the burden.
A few years ago she was traumatised when her son Rahul became what the friend describes as 'wayward'. But she coped with that crisis, hoping for better times.
Not surprisingly, the events of the last six weeks have transformed her completely.
On April 22, she was in the family's apartment in south-central Mumbai when her brother-in-law Pravin fired three bullets into her husband's body. She remained miserable, insecure and nervous but hopeful those 12 days when her husband battled death at Mumbai's Hinduja hospital.
But those 12 days at the hospital also gave her a fresh insight on her life. When Pramod Mahajan died on May 3, a new realisation dawned on her, says the friend.
Many who did not know Mahajan wept with his friends and relatives when Rekha broke down at his coffin. To everyone's surprise, reveals the friend, she soon collected herself, regained her confidence, and appeared determined to confront the rest of her life without her husband by her side. She understood she was left without no options.
But then came the events of June 1-2 when her son was rushed to New Delhi's Apollo hospital suffering a suspected drug overdose. As his mother, Rekha knew Rahul and his ways but her friend says the genuine sympathy created by his father's death has been erased by his son's "stupid and unpardonable" act.
The friend also believes that had Bibek Maitra, Pramod Mahajan's private secretary and reported custodian of many of his secrets, not died that night of a suspected drugs overdose, the episode would never have come to light. Rahul's hopeless habits and attitude to life would have continued to remained under wraps.
Still, the media's relentless coverage since last Friday morning and the harsh public reaction have not shattered her. "Thankfully," says the friend, "Rekha knows the media will forget the episode but she has to fight on." She is composed and determined to "rebuild the house of the Mahajans," adds the friend.
A day before her son's arrest she told the friend in Marathi, 'I will have to rebuild everything again. I will have to face the world, and I will.'
In the current crisis, not surprisingly, Rekha's source of strength is her daughter Poonam Rao. Poonam, the friend says, is mature in taking decisions and understands her mother's emotions.
Rekha Mahajan has expressed a desire to do social work, probably by joining the Rashtriya Swayamsevak Sangh-linked Rambhau Mhalgi Prabodhni's institutions on the outskirts of Mumbai.
Her husband's party may distance itself from the Mahajans but Rekha would like to create a new future from the ruins of the triple tragedies thrust upon her by destiny.
Rekha Mahajan's story has just begun.
Photograph: Jewella C Miranda