The condition of Rahul Mahajan, who was admitted to Apollo Hospital in Delhi for suspected poisoning, continues to be critical and he has been put on life support system.
Mahajan's condition is a "bit serious" but stable and the next 24 hours are critical for his health, Dr Nirmal Surya, his family physician, told reporters at the hospital. He claimed that Rahul did not show any symptom of drug overdose.
However, doctors are yet to ascertain the substance consumed by him at a late night party, attended by three unidentified persons, where his late father and BJP leader Pramod Mahajan's secretary Vivek Maitra was also present.
"Some toxin has affected his respiratory system. We do not know what it is. It is hard to tell now," said Surya, who flew in from Mumbai after hearing about Rahul's condition. He said Mahajan, 26, had been taking anti-depressants for the last three years and had increased the dosage two days back as he had been feeling low after his father's death.
"Rahul had been suffering from anxiety and depression since a meningitis attack in 2002 and this had aggravated after his father's death," Surya said.
He, however, ruled out the possibility of any reaction of anti-depressants with liquor as the quantity of his medicinal intake was very less.
Rahul is Pramod Mahajan's only son.
Police sources said they recovered some "white powder" from Rahul's person. It has been sent for forensic examination.
Investigators are trying to establish the identity of the three people who were said to have visited Rahul and Maitra at Pramod Mahajan's official residence at 7, Safdarjung Road in New Delhi around 00.30 am and drunk champagne before leaving in about 45 minutes.
The police said Ganesh and Anil, the domestic servants, told them about the presence of the three people who they did not know. The trio returned later only to leave again once Rahul and Maitra were rushed to hospital
A medical bulletin issued by the hospital at 1700 hours said Rahul will be under observation for the next 72 hours.
"He was brought in an unconscious state early in the morning. His blood pressure, respiratory rate and oxygen level were low. It has been stabilised and he is under observation," Ritu Rawat, the hospital's medical superintendent, said.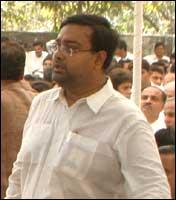 Maitra (left) was declared dead on arrival at the hospital. Rawat said the cause of his death is yet to be ascertained.
Pramod Mahajan was shot by his younger brother Pravin and died on May 3.
"We are trying to ascertain the identities of the three and investigations are on in that direction," Additional Deputy Commissioner of Police Manish Aggarwal told reporters.
He said the police has recovered "some white powder" in a polythene bag from the scene and has sent it for chemical examination. "It is a very small sample and details about it would be known only after the examination," he added.
Maitra's body has been sent to the All India Institute of Medical Sciences for a post-mortem.
Shocked by his nephew Rahul's condition, his uncle Gopinath Munde, leader of the BJP's legislature party in Maharashtra, said it was too early to link the incident with the Pramod Mahajan murder.
Munde, who arrived in New Delhi from Nagpur on Friday morning, told reporters that the Mahajan family has been informed of Rahul's condition, which he said is improving.
"It is not proper to say what was the reason behind this. Now that Bibek Maitra is no more, only Rahul would be able to say what happened after he regains consciousness," Munde said when asked if there is a link between the two incidents.
Vivek Maitra: on his boss' secret service 
Munde, who is married to the late Mahajan's sister and was closely associated with him, said he was told that both Rahul (right, below) and Maitra developed problems after dinner around 02:30 am on Friday morning. Maitra, who suffered from high blood pressure and diabetes, died of a "heart attack" around 05:00 am.
"Rahul's condition is serious but stable, all his vital parameters are functioning normally," Apollo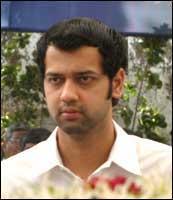 hospital spokesperson Karan Thakur told PTI. Asked about the cause of Rahul's ailment, Thakur said it was being examined.

"Whether the food poisoning happened because of stale eatables or some poisonous substance was mixed with the food we cannot say at the moment," he said.

A multi-disciplinary medical team headed by Dr Prasad Rao, who is the hospital's internal medicine specialist, is attending to Rahul who was admitted at 3 am, he said.

A Delhi police officer said Rahul and Maitra's vomit was cleared up at the residence, adding that evidence in the incident has been "disturbed".

A close friend of the Mahajan family told PTI that both Rahul and Maitra were found to be suffering from "some kind of poisoning." He, however, declined to speculate whether it was food poisoning.

Rahul was in the news when he attended the BJP national executive meeting in Delhi earlier this week, triggering speculation about his possible entry into politics.

His name was proposed by the BJP to replace his late father in the Rajya Sabha from Maharashtra but the Congress and Nationalist Congress Party apparently turned down the proposal.

Maitra has been a close associate of the Mahajan family for several years.

Shocked by Rahul's critical condition, BJP leaders, including party president Rajnath Singh, visited the Apollo hospital on Friday morning. Singh, party General Secretary Vinay Katiyar and Delhi BJP President Harsh Vardhan were among the first visitors at the hospital.

"I am told by the doctors that his condition is critical, but stable," Rajnath Singh said. "It is a sad and unfortunate episode. The exact reasons could be ascertained only after a proper investigation," he added.

Katiyar said the doctors told him it could be because of food poisoning, but the exact details would come out only after a detailed investigation by the police and a thorough examination by the doctors.

Dr Harshvardhan told rediff.com that Dr Rao, who is attending on Rahul, told him there is considerable improvement in the younger Mahajan's condition.

Rahul, he revealed, was brought in an unconscious state by his family's servants, who first drove him to the All India Institute of Medical Sciences, but later shifted him to the Apollo hospital.

Delhi Police Commissioner K K Paul said the white powder seized from Rahul's home has been sent for examination to the Central Forensic Laboratory in New Delhi.