Nearly a fortnight after Terror Tuesday, we visit some survivors of the tragedy. An ongoing series: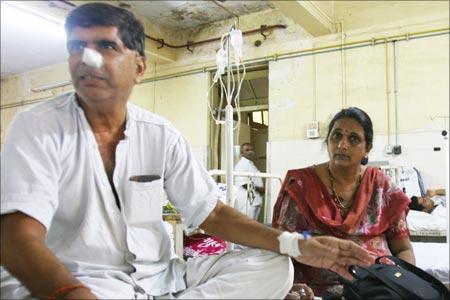 Sunil Karnik, 56
Manager, Saraswat Cooperative Bank
Ward 3
Sion Hospital
The doctors will soon tell Sunil Karnik when he can go home.
On Thursday, they conducted an hour-long operation to remove a 8mm piece of metal lodged in his sinus. His nose and ears are still bandaged; the left eardrum has been badly affected.
"Doctors say it will take 3 to 6 months for the regeneration of the eardrum. If not, then I think it will need an operation," says Karnik as his wife Charu, an audience researcher at the All India Radio, sits by his bedside.
For the next six months, Karnik has to protect his ears from water. Wearing a precautionary cap under an umbrella in the rain does not bother him. But the thought that he won't be able to swim for the next six months is a huge disappointment.
Swimming has been a part of Sunil Karnik's daily schedule for as long as he can remember. Every day after his evening tea, he would go down to the pool in his building for a half-hour swim.
"Swimming was his fitness schedule but I was telling him he could perhaps like to try a gym instead," says Charu Karnik.
On the day of the blasts, Karnik -- who has been traveling on Mumbai's trains since school -- boarded the train from the Grant Road station. He was pleased to find the train less crowded than usual and was standing in between two benches when the left side of his compartment exploded at Mahim.
"My left ear was bleeding profusely so I held my handkerchief against it and started looking for a cab. I even managed to inform my wife that I had been injured but couldn't tell her where I was headed because I didn't know that myself. My shirt was drenched in blood and on seeing me a cab driver stopped. 'Lilavati Hospital,' I told him, but he said he could take me to Sion Hospital faster. Seeing that my 'kerchief was completely soaked and of no use, he gave me his 'kerchief and didn't charge me a paisa for the ride."
Karnik had lost a lot of blood but he was conscious. His phone and office bag were with him but he couldn't contact his wife till 11 pm that night because of a jammed telephone network. The doctors conducted four CT scans, arrested the bleeding and said that if there was no vomiting in the next 24 hours, it would be a good sign.
That night he couldn't sleep. The painkillers had numbed the pain but sleep was the last thing on Karnik's mind in a ward full of injured blast victims. He was relieved there was no vomiting.
Some time that night, railway officials came and gave him Rs 5,000 in cash. Last Thursday, a day before Prime Minister Manmohan Singh visited the injured, he was given a cheque for Rs 50,000 from the state government. A cheque for Rs 45,000 given to him by the railways had to be returned because his name was mis-spelt.
"They said they would make the correction and bring it back but they haven't returned. I will go to Churchgate station and find out if they don't come before I am discharged. I can only go back when I am better," he says.
Contrary to the prevailing middle class disdain towards government and municipal hospitals, Karnik has a refreshing outlook based on the care he has received at the BrihanMumbai Municipal Corporation-run Sion Hospital. His friends and family urged him to move to a private hospital but he has held firm.
"I have been told that the equipment here is the very best and the doctors have been working round the clock. I have no reason to complain. The whole staff has been very good. Then, it is not practical to leave my treatment unfinished here and go to another place and begin all the tests all over again."
In his eleven days at the hospital, among those who have visited him have included Prime Minister Manmohan Singh and Gujarat Chief Minister Narendra Modi. There have been visits from religious orders, social workers and cadets from the National Cadet Corps. Though there was the security drill in the ward before the prime minister arrived, he was happy to have met Dr Singh. "Where do ordinary people get to meet big people like the PM? It felt good."
His days in the hospital are spent reading the newspapers brought by his wife, talking to friends on his cell phone and strolling its corridors.
The only blast victim left in the ward, Sunil Karnik now wants to go home now, then get back to work.
"I'll take the same train and sit in the same compartment. What is there to fear?" he asks.
Text: Archana Masih | Photograph: Rajesh Karkera
Another survivor's story: 'My taqdeer was bad. But my taqdeer was also good'