President A P J Abdul Kalam on Tuesday led Mumbai in paying silent tribute to the victims of the train blasts at precisely 6.24 pm - the hour at which the first of the seven bombs aboard trains went off on July 11.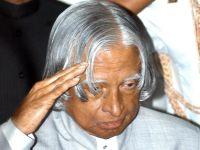 He led the public in maintaining two-minute silence at Mahim railway station, venue of one of the explosions.
In view of the threat perception to the President and to enable the silent tribute, all commercial establishments lining the pavement outside the railway station had shut down by 6 pm.
The road outside the station was a sea of khaki as the police was present in full strength. Road traffic continued as usual for the most part, despite the throngs of public which turned up to both pay tribute as well as to see the President.
The first to arrive at the venue was Maharashtra's Director General of Police Dr P S Pasricha. He was followed by Mumbai's Police Commissioner A N Roy, Municipal Commissioner Johny Joseph and Mayor Dattaji Dalvi.
At 6.20 pm traffic outside the station was halted, as were the trains. At 6.22 pm three white Ambassador cars pulled up. Even as the public craned their necks to see who alighted, armed guards trooped out. The President's special guards had arrived.
At 6.23 pm President Kalam arrived along with Maharashtra Governor S M Krishna, and was received by Pasricha and other dignitaries. He was led to the station's foyer where a black plaque had been erected to commemorate the victims of the blasts.
At 6.24 pm the Civil Defence sirens went off, indicating the start of the silent tribute. A hush descended on the area, most of the cops saluted, while some kept an eye out.
At the end of the two minutes, President Kalam came out of the station, and shared a few words with the municipal commissioner and the DGP before getting into his car. The governor got in alongside and the car sped towards Bandra.
As a waving Kalam disappeared from view, life turned to normal. The crowds, which had been in a state of freeze-frame, resumed their life, shops reopened, the traffic began its clamour to get ahead, and the trains started chugging again.