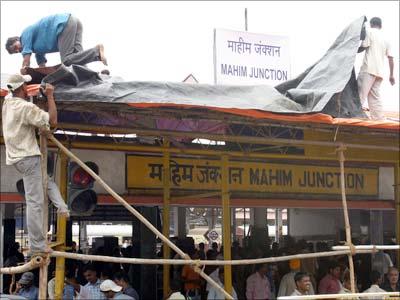 Till last week, there was nothing to set apart Mahim railway station from the many others in Mumbai. The approach to the station is squalid, there are beggars and junkies loitering about near the ticket windows, the walls are paan-stained. It was just like any another railway station in the country's richest city.
Last Tuesday, Mahim was one of the railway stations where terrorists exploded a bomb hidden in a train compartment.
Apart from the casualties, the blast blew away a section of the roof on one of the platforms, brought down a couple of  hoardings and damaged a concrete bench some distance away.
This was the Mahim station commuters saw on Saturday as they headed home for the weekend.
Come Monday morning and, voila!, it was a new-look station that greeted them. Regulars rubbed their eyes in disbelief as  they saw the approach spruced up, the filthy walls near the ticket counters had been retiled, the railway platforms had been given a fresh coat of whitewash.
The reason for this makeover was not far to seek. President A P J Abdul Kalam is scheduled to visit the railway station on Tuesday, and the administration has gone into overdrive, sprucing it up, making it worthy of the First Citizen.
Our question is: If he is here to see the damage for himself, what is the point of showing him a made-over station?
Text: Ganesh A Nadar | Photograph: Rajesh Karkera
Complete coverage: Mumbai blasts: Terror on trains