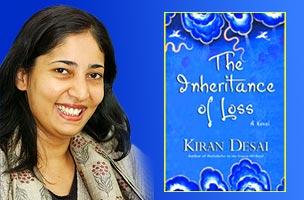 Who your mother is makes a big difference to the way the world looks at you. Kiran Desai, who was born to author Anita Desai 34 years ago, knows the feeling. What she chose to do in life would, possibly, not attract as much attention if she were to have picked a different profession. What Kiran wanted, however, was to write. And journalists of Indian origin the world over sat up to take notice.
1998's Hullabaloo in the Guava Orchard arrived with much promise. The younger Desai had already appeared in the prestigious New Yorker's India fiction issue a year earlier. Her Strange Happenings in the Guava Orchard was also the closing excerpt in 1997's Mirrorwork, an anthology of 50 years of Indian writing edited by Salman Rushdie.
The debut novel was well received. Much was made of Kiran Desai's prose, and the fact that here was a writer with tremendous potential. And then, she disappeared. Took the next seven years off, to resurface earlier this month with The Inheritance of Loss.
Four years to write her first novel; seven for her second. It seems like a tremendous amount of time, until you begin to read it. That's when the care lavished on each of those sentences manifests itself. From descriptions of the landscape in the shadow of Mount Kanchenjunga, to the tenuous relations between different races in the cultural melting pot that is New York City -– Desai chips away slowly, calmly, fashioning each character and chapter unhurriedly.
It is a commendable virtue any novelist ought to cultivate -– patience.
What Senior Features Editor Lindsay Pereira took away from my reading of The Inheritance of Loss was a sense of despondency. A quiet melancholy about the lives we live. Strangely, it was the kind of sadness he found an echo of in John Banville's current Booker-winning novel, The Sea, where he writes of the human condition: 'What a little vessel of sadness we are, sailing in this muffled silence through the autumn dark.'
This is a novel of memorable characters. The ageing, bitter judge who wants to forget his past but is betrayed at every step by a mind that refuses to forget. His granddaughter, the orphaned Sai, who turns up as a child and grows up to fall in love with her Nepali tutor. Their cook, whose son Biju in the US leads a life radically different from the picture of hope his father has painted for himself. It is events, in Kalimpong and America, that shake these people out of their carefully constructed lives and lies to reveal truths that each of us, in our own particular stories, have access to.
The title of the book, then, is apt. It speaks off little failures, in a way, passed down from generation to generation. The failure to hold on to the purity of childhood, perhaps, or to maintain a sense of innocence in the face of brutal life, or the ability to hope knocked down bit by tiny bit, daily.
Ultimately, The Inheritance of Loss is an impressive novel. And, in parts, a funny one. When Lindsay got in touch with Kiran Desai, then, it was with questions related to its making, as well as questions about the issues that appear to drive her writing. Even her replies, he noted, held little stories.