Saudi Arabia's King Abdullah bin Abdulaziz al-Saud will be the chief guest at the Republic Day celebrations on January 26 in New Delhi. The move is seen as an extension of New Delhi's oil diplomacy by some analysts -- Saudi Arabia is the world's largest exporter of oil.
If that's all you know about the Saudi monarch, read on:
Who is Abdullah bin Abdulaziz al-Saud?
Crown Prince Abdullah, 82, became king of Saudi Arabia last August, after the death of his half-brother, King Fahd.
But since King Fahd suffered a stroke in 1995, Abdullah had been the virtual ruler of the kingdom, which was founded in 1932 by Abdulaziz bin Abdulrahman Al-Saud. Abdullah is one of the 37 sons of the founder of modern Saudi Arabia.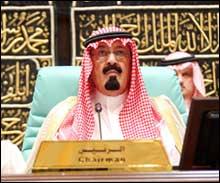 Abdullah has, who became the commander of the Saudi National Guard in 1963, and first deputy prime minister in June 1982, has four wives, seven sons and 15 daughters. One of Abdullah's sons, Prince Mutaib, is a deputy commander in the Saudi National Guard.
Is the Saudi king liberal?
From whatever little is known about him, it would appear so. Abdullah did away with the practice of his subjects kissing his hand.
And, Abdullah gave his first televised interview to a woman, the celebrated Barbara Walters of America's ABC News. It was quite an event in a country where women cannot drive, go to a university or even undergo surgery without a man's permission. In the country's first ever election in 2004, women were denied the right to vote.
Reportedly, in each of Abdullah's palaces, there is wall full of television screens, on which he catches up with news from around the world.
Abdullah paid for the surgery of a pair of Polish conjoined twins -- Daria and Olga Kolacz -- in Riyadh in January 2005. Abdullah heard about the twins from a doctor, who had read about them on the Internet. He is also paying for the separation surgery of a pair of Morocco-born twins.
And, he has also offered to pay for the renovation of the Jama Masjid in New Delhi.
What are his views on terrorism?
In 2003, on the second anniversary of 9/11, Abdullah wrote a letter to US President George W Bush. The letter ended with:
'God Almighty, in His wisdom, tests the faithful by allowing such calamities to happen. But He, in His mercy, also provides us with the will and determination, generated by faith, to enable us to transform such tragedies into great achievements, and crises that seem debilitating are transformed into opportunities for the advancement of humanity. I only hope that, with your cooperation and leadership, a new world will emerge out of the rubble of the World Trade Centre: a world that is blessed by the virtues of freedom, peace, prosperity and harmony.'
More recently, in December last year, Abdullah called on all Muslims to fight against terrorists.
What is his equation with America?
Abdullah has visited the US numerous times as crown prince. He and George W Bush are self-confessed friends. When Abdullah was crowned king, Bush referred to him as 'my friend'. And in April last year, when Abdullah visited Bush at his Texas ranch in Crawford, the two men held hands in a public gesture that was the subject of many jokes on American television.
'In our culture, holding hands is a sign of friendship and a sign of loyalty and you do it with people dear to you. And President Bush is a friend whose friendship I value and treasure,' Abdullah said.
Will Abdullah only visit India?
No. The king embarks on an Asia tour -- his first since taking over as monarch -– that kicks off with India. He will then travel to Pakistan and China.
Who have been India's Republic Day chief guests in the recent past?
In 2000, Nigerian President Olusegun Obasanjo was the Republic Day chief guest. Next year, it was Algerian President Abdelaziz Bouteflika; in 2002, it was Mauritius President Cassam Uteen; In 2003, it was then Iranian President Syed Mohammed Khatami; Brazilian President Luiz Inacio Lula da Silva did the honours in 2004 and Bhutan King Jigme Singye Wangchuk was the chief guest in 2005.