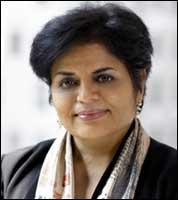 When Vishakha Desai first went to the United States as a 16 year old people often asked her if she went to school in India on an elephant. Now as President of the Asia Society, the prestigious American institution which aims at increasing American understanding of Asia, her office in New York receives queries from people wanting to set up businesses or looking for a professional and personal destination in India.
"Earlier at the Asia Society," she said recently, "we used to asked -– 'Can you tell me the best Indian restaurant in New York City'. Or, 'I want to wear a sari to a wedding, where can I get one', now it is -- 'I'm going to India for three weeks, who's the best resource'."
In India, ahead of a conference to be organised by the Asia Society in Mumbai in March, ahead of the Asia Society establishing its first office in India, ahead of US President George W Bush's speech to the Asia Society on February 22, Dr Desai spoke to Assistant Managing Editor Archana Masih about what has changed in India-US relations, the vital role played by Indian Americans in increasing awareness about India and the role of the Asia Society in educating Americans about India. The first of a two-part interview:
In a time when there seems to be this buzz about India, what changes have you observed in the American people's understanding of India?
I have been in America for a very, very long time. I went as a 16 year old at a time when people did ask me if I went to school on an elephant. I think those questions don't get asked any more. Look at how Indian food has invaded America. I think one has to look at the soft power of India and that has helped a tremendous amount.
The presence of Indian Americans, I think we should not discount that. Lots of people know that Indian Americans as a group have the highest per capita income and highest per capita education of any ethnic group in the country.
As India rises and Indian Americans come into their own those two together create this sort of a buzz that is important.
Notwithstanding these changes, I still feel that the knowledge about India and Asia is quite superficial. Even though Indians are in different parts of America there is still a lack of deep knowledge.
We live in this channel surfing mentality where we feel if we change the channel -- out comes the African safari or the Indian village. And we think we've seen India. I think this is very dangerous because the access is so great, especially with the Internet that you can be lulled into thinking that you know something but that semblance of visibility does not mean real understanding.
That is where I think our role as our institution continues to be important. We are about beyond the headlines, we are interested in going below the surface.
Our challenge is that we do very well among decision makers, businesses, cultural leaders, we need to make a bigger difference to a bigger group of people. That means broader strategies to connect to more people.
You have come to Mumbai from Pakistan. General Musharraf recently told the CNN-IBN television channel in India that Indo-Pak relations have never been better. In your interactions with speakers on the Indo-Pak issue at the Asia Society, do you get a sense that this shift is for real?
I have to say that the shift is very palpable. It has to do with what people talk as well as what people say. So the tone is as important as the context.
I think because of the economic priorities and imperatives before the countries there is an acknowledgment finally that if we don't resolve this issue both countries shall continue to be held back.
The other reality is 9/11.
9/11 has really shifted how people look at security issues. Both in India and Pakistan there is tremendous excitement about change. People-to-people diplomacy efforts -– the non-governmental efforts -– have really taken root. It is not a one off thing, it has become very multi-pronged.
But wasn't people-to-people relationship in a way always positive?
But not much. I can tell you when I was in Pakistan in 1996, the amount of trouble people had in getting visas. It was very hard. That is shifting. The fact that there are more planes, trains, that's begun to change.
I was very excited because this time I had the occasion in Lahore to go to the India-Pakistan practice match because the head of the Pakistan Cricket Board is a member of our international council. They were talking about how the Pakistanis had welcomed the Indian team even last time. It was just unbelievable. That when Indian players went into shops people didn't take money.
I picked up this time, that there is a feeling some times among Pakistanis that they know more about India than Indians know about Pakistan. And the prejudice is lots stronger about Pakistan in India than the other way around.
For example, they told me that a number of their Indian friends visiting Pakistan would be very surprised that not all Pakistani women were wearing burkhas. Or that they were driving cars. The fact that Pakistan has much of a South Asian heritage that in fact our similarities are a lot more greater than our differences was a surprise to Indians and that is something to think about.
Indian television and films are hugely popular in Pakistan, but Indians do not have access to such visible media from Pakistan.
Right, I agree there is no Pakistani influx. That's something that needs to happen and will be a very useful thing if it does. So this people-to-people thing also needs to kind of continue to foster so that it is in popular media, so that you can even have conversations between young people from India-Pakistan. That would be a very exciting thing.
We really don't just see the (India) centre for India but as a hub for South Asia and for India-Asia connection. Along with the US-Asia connection.
We are also looking at some signature events we might have in Pakistan on an annual basis. This is the next thing we should look that. We need to get off the ground and get to the next level.
We probably won't open an office (in Pakistan) right away but that doesn't mean we won't do programmes there.
A lot has been spoken and written about the change in the Indo-US relations. Do you feel this irreversible?
If I had to put my bet I would say that chances are high that it is irreversible. You never say never. But you also have to remember that what you're building from was a very low base. In other words, the relationship was never really that great.
The 1970s and 1980s were downright hostile, so compared to the US-China relationship that has got hot and cold but has maturity over a long period of time in terms of engagement, this is not the case (with India).
One has to say that this is still nascent in that sense. And as my friends point out when the base is low, you don't have anywhere else to go but up. I think that's partly the case.
One must not forget and if you study the speeches that President Bush and State Department officials have made, they make a really big deal about the Indian Diaspora and how much of a role they have played.
If you study that vis a vis, US-China relations there's hardly ever a mention of the Chinese Diaspora as making a difference. So the Indian Diaspora's involvement in the political process in America and its distinction and accomplishment in the professional and financial world is noticed and that makes a difference.
The other piece about the relationship is that it is a strategic relationship for the US. Some people have said it is primarily to triangulate US-China relationship. Lots of State Department officials deny that. They say India needs to be looked at in its own right.
The fundamental difference is that the Indo-US relationship is not seen only from the prism of the US-Pakistan relationship and therefore it is an independent relationship.
India is an important player in its own right, not just to balance out the region. That's a very important change.
If the economic changes in India remain irreversible the chances of this relationship staying on course will also be irreversible.
The civil nuclear energy deal is something we will have to watch because lots of hopes and expectations have been put on that idea. How it is managed on both ends can create a bit of rockiness because we have put so much expectation on that.
Tomorrow: 'India vs China is a very tired debate'
Photograph: Jewella C Miranda