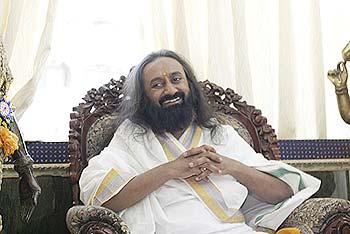 This weekend the Art of Living Foundation, an organisation that has changed the lives of millions around the world, celebrates its 25th anniversary.
From those devastated by the tsunami, the Kashmir earthquake, Hurricane Katrina and numerous others seeking inner peace, Sri Sri Ravi Shankar has been a source of inspiration and faith. People are driven to him from places as diverse as Senegal, Bosnia, Botswana and Mongolia, making his ashram on the outskirts of Bangalore virtually an assembly of the world.
Sri Sri Ravi Shankar on the Rediff Chat
The Guru of Good Cheer spoke to Editor Saisuresh Sivaswamy and Nikhil Lakshman at his ashram in an exclusive interview, which we will publish in five parts. Today, His Holiness discusses the Art of Living Foundation's achievements and the challenges confronting humanity.
Are you satisfied with what the Art of Living Foundation has achieved over the last 25 years?
In Art of Living we work on the level of satisfaction, not on the level of want or ambition. There are two ways to work. One, you have an ambition, a wish, and work towards it and get satisfied when you have that. But that is not the principle here. We are satisfied and we want an expression of our joy.
Looking back at Art of Living's 25 years, how do you feel at the way it has evolved? Anything you feel that has not been done, territory not covered?
I am happy about it. One is that you look back and see the satisfaction it has brought to millions of people around the world. That gives more enthusiasm that many more can be benefited by it. So we need to enlist more people in order to do that.
Most organisations after a point become captive of a routine and stop growing. What is the route that you have charted out for the organisation for the next 25 years? How will you ensure that Art of Living continues to grow organically?
To me, an organisation is not so important. An organisation is like a frame to hold a picture. The most important in all this is the picture itself. Knowledge is being spread to the people, by word of mouth, one on one. That is happening. I am not so much concerned about an organisation, its growth etc. That happens. I am more interested in the individual who is growing.
Daily, newspapers proclaim that religion is in danger. It could be any religion, Hinduism, Islam, Christianity... As a spiritual leader of the 21st century, do you share the perception? Is religion in danger?
For those who do not have faith in God, fear is a way to protect them. But if faith is strong, there is no anxiety about something in danger. Faith in the divine and faith in one's faith. You know everything is being protected, and everything is being taken care of.
What are the five biggest challenges confronting humanity, and what should be done to overcome them?
Why are you limiting it to just five biggest challenges?
The challenges are different in different places, for different people, and that moment for them that is the biggest challenge.
When the tsunami hit Southeast Asia, the trauma was the biggest challenge for people there. Though they had food and medicines, though people jumped in and provided shelter, the biggest challenge was to make them realise how to value their money, how to handle their anxiety and fear.
The biggest challenge now in Kashmir after the earthquake hit the region is to shift people from the cold to a warmer place. Clothing is available, food is available, but people need warmer shelter. So the biggest challenges depend on different situations.
Would you single out anything as the overwhelming challenge?
The overwhelming problem in the world today, everyone knows, is terrorism, where people in the name of religion kill each other, kill others just to go to heaven, and thinking only they will go to heaven. This sort of thought, the indoctrination of such a mentality is a challenge.
The second challenge is a lack of trust in human values. When people lose faith in the natural goodness of the human character, the lack of trust in spiritual goodness, that is one reason why corruption has become so widespread today.
How can spirituality confront, overcome these challenges?
By broadening one's vision, spirituality can help.
We are trapped in an ideological vacuum. We can help by means of the love and compassion spirituality creates.
For a person to be a terrorist somewhere he has to block his heart. Somewhere he has to block his feelings. If that block is removed he can't believe in violence.
Part II: 'Basically people are good'
Photograph: Jewella C Miranda