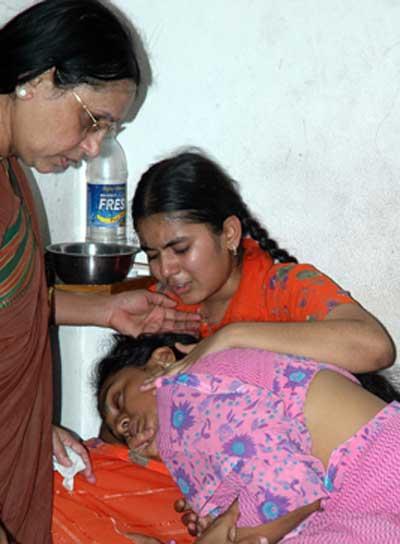 Manjula, wife of Indian engineer K Suryanarayana is comforted by older daughter Anisha and a relative, after the news of his killing by the Taliban was flashed on television news channels. The family lives in Hyderabad.
Suryanarayana, who was working on a telecommunications project in Afghanistan, was abducted by the Taliban on Friday evening. Even as a team from the Ministry of External Affairs reached Afghanistan to negotiate, the Taliban killed Suryanaryana, alleging that he attempted to escape. The government has condemned the act, saying the Taliban was not interested in negotiating.
This is the second instance of an Indian civilian being killed by the Taliban. In 2005, Maniappan Kutty, who worked with the Border Roads Organisation, was abducted and then killed.
Suryanarayana is survived by his parents, wife, two daughters and a son, who are all inconsolable.
Photo: STRDEL/AFP/Getty Images