Ten Sri Lankan soldiers and civilians were killed while the Army chief Lt Gen Sarath Fonseka was critically injured when a suicide bomber disguised as a pregnant woman blew herself up inside the army headquarters in Colombo on Tuesday, in the first such attack in two years.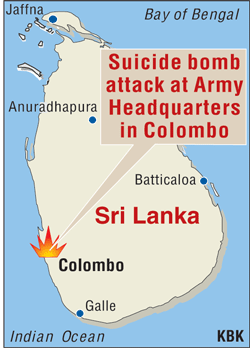 The Liberation of Tamil Tigers Eelam bomber blew herself up at the gate of the military hospital situated in the heavily guarded army headquarters compound. She is believed to have entered the complex with visitors to the military hospital.
"A powerful explosion activated by a woman Tamil Tiger suicide bomber claimed the lives of several army and civilian personnel near the military hospital gate this afternoon," the army said in a statement.
Besides the army chief, 26 other personnel were injured in the attack that came as the rebels stalled a second round of peace talks with increasing attacks on government troops.
Fonseca, who suffered severe abdominal injuries, was rushed to the hospital where he underwent an emergency operation. He is said to be in serious condition.
Nearby roads were closed after the blast and the main highway connecting LTTE stronghold Jaffna to the rest of the rest of the country was cut off by government troops.