Prominent Bharatiya Janata Party leader Pramod Mahajan is battling for life hours after his younger brother pumped four bullets into him in a sensational attack, which police described as 'pre-meditated'.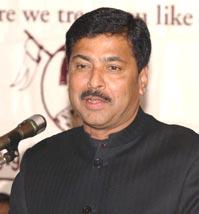 After a four-hour emergency surgery to deal with critical injuries in his liver, lower chest, abdomen and pancreas, the doctors said that the BJP general secretary's condition was 'quite critical' and that he had been put on ventilator.
Four bullets that caused extensive damage and massive bleeding in Mahajan's liver and other organs were not removed during the surgery at the Hinduja hospital by a team of doctors. He was given 25 bottles of blood to make up for the blood loss.
"Major bleeding stopped after the surgery but he is still oozing blood from the extensive liver injury," according to Dr Anupam Verma, dean of the hospital.
The shooting incident took place around 8 am on Saurday morning at Mahajan's 14th floor apartment in Worli after heated arguments between him and his younger brother Pravin, according to the police who said that the assailant went to a police station later, surrendered with the revolver and was arrested.
What motivated the attack remained unclear with police as well as the third Mahajan brother Prakash discounting earlier reports that property dispute was the cause.
Pravin's lawyer Nand Kumar Rajurkar claimed that he was mentally ill. "I am not aware whether Pravin shot at his brother but certainly I know that Pravin is mentally ill and needs psychiatric treatment," he told reporters.
Pramod's maternal uncle Vibhakar Mirajkar said it was not property dispute but an inferiority complex that may have led Pravin to fire at his brother.
"As far as I know there was no property except for a small plot of land, which Pramod had purchased in Ambajogai in Marathwada region several years ago", Mirajkar told PTI.
Mirajkar, a lecturer with a local college, said Pravin was not friendly with the other two brothers and kept away from family functions and get togethers. Pravin always remained aloof from the main family, Mirajkar said.
"Pramod helped Pravin in several ways and we are at a loss to understand what led him to take such a step," Mirajkar said.
Pravin has been charged with attempt to murder and was interrogated for about 6 hours before being sent to J J Hospital for analyzing his mental state.
56-year-old Mahajan's wife and some other family members witnessed the shocking incident after which his brother-in-law Gopinath Munde and a doctor, both staying in the same apartment complex, rushed him to the hospital.
As the news of Mahajan being shot at spread, a large number of BJP supporters rushed to the hospital and police had a tough time controlling the crowd.
Top BJP leaders, including L K Advani, Rajnath Singh and M Venkaiah Naidu also rushed to Mumbai. After visiting Mahajan in the Intensive Care Unit, Advani said, "In this situation, only prayers can help."
Hundreds of BJP workers made a beeline to donate blood at the hospital on hearing that their leader was in need of B+ blood.
Former prime minister Atal Bihari Vajpayee was in constant touch with Mahajan's family.
Shiv Sena leaders Manohar Joshi, Uddhav Thackarey, film personalities Hema Malini and Madhur Bhandarkar, Maharashtra Ministers Chagan Bhujbal and Dilip-Walse Patil visited the hospital to enquire about Mahajan's condition.
Photograph: Paresh Gandhi