Many in the subcontinent are beginning to writing him off.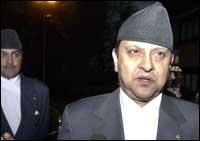 But is Nepal's King Gyanendra really going to be the 'last Hindu monarch'?
That's the trillion dollar question. And the next few days, if not weeks, are going to be critical for the 58-year-old monarch [who staged two successive coups on October 4, 2002, and February 1, 2005] on grounds that political parties' had failed to tame a growing Maoist revolt in the Himalayan foothills.
As the 'People's Movement-II' takes its course across the length and breadth of Nepal, the international community [chiefly India that shares civilizational ties with Nepal] is eagerly following the developments unfolding in the Himalayan nation of 25 million.
That Gyanendra's popularity has hit the lowest ebb becomes clear from the anti-monarchy slogans currently being shouted on the streets of Kathmandu and other towns and cities across Nepal. In 1990 -- during the 'People's Movement-I' -- similar demonstrations forced his brother, the Late King Birendra who was slain during the June 1, 2001, palace massacre, to step down as autocratic monarch.
Tsunami of pressures
Not this time. For the first time since the King started his direct rule, there's a whole tsunami of pressures building up on the monarch. From domestic as well as regional and international quarters pressure is mounting on him to step down and restore democracy. For now, the people's representatives -- the Seven Party Alliance and the underground Communist Party of Nepal (Maoist) -- have vowed to embrace multi-party polity.
The people of Nepal want lasting peace, stability, democracy and political stability. Tens of thousands of people, fed up with years of violence and centuries-old backwardness against the spectacular backdrop -- started pouring on to the streets across Nepal since April 6. Their demands: the monarch must go and usher in an era of complete democracy, whereby the Maoists can lay down their arms and join the political mainstream.
But the monarch has all along remained bent on his roadmap -- restoration of parliament through general elections that he's intent on holding within a year. The SPA constituents, who essentially want the monarch to reverse his 'regressive steps' by reinstating the dissolved House of Representatives, aren't listening. They are stepping up pressure on King Gyanendra, who's been isolated by the western powers and India after 'February One'.
And the SPA seems to be succeeding. The turnouts at anti-king demonstrations -- in hundreds of thousands in some cities -- have been quite unprecedented. Today, not a single township has been left untouched by the pro-democracy -- and worse, pro-republican -- showdowns.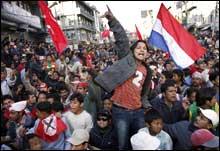 Besides, fighting pitched battles with security men on Kathmandu's Ring Road and other towns, the SPA leaders have called on people and businesses to stop paying tax to the regime. Things came to a head when, for lack of transportation of essential supplies on major highways, the nation teetered at the edge, just as civil servants including home ministry officials joined the strike.
International opinion
But things might just calm down given the international pressure that's mounting on the monarch to restore democracy. Following an emergency meeting attended by key cabinet ministers and army chiefs in New Delhi, Indian Prime Minister Dr Manmohan Singh appointed former Jammu and Kashmir Regent and senior Congress leader Dr Karan Singh as the Special Envoy to Nepal.
Before things could get from bad to worse, Karan Singh flew to Kathmandu with Foreign Secretary Shyam Saran and Joint Secretary for Nepal and Bhutan, Pankaj Saran. Singh's appointment at an extremely crucial time for Nepal assumes importance for two basic reasons.
First, Singh is a living example of how feudal monarchs could abdicate, still win over people's hearts and minds, and lead a highly respected and dignified public life.
Second, the 75-year-old leader is married to Yasho Rajya Laxmi, grand-daughter of the last Rana Prime Minister, Mohan Shumsher Rana.
In Kathmandu, Singh has held talks with senior politicians, former prime ministers, senior government officials and, most importantly, King Gyanendra. He will be conveying the message that multiparty democracy needs to be on track for the welfare of Nepal and Nepalese people. That would be in India's interest, too.
Senior diplomats in Kathmandu agree -- the sooner democracy returns to Nepal, the better it is for the country, other neighbors and, most fundamentally, the monarch himself.
American Ambassador to Nepal James F Moriarty recently told CNN, 'Nobody wants to see the King cling on to the wheel of a helicopter and flee.'
In fact, Moriarty's frank and undiplomatic remarks echoed popular sentiment. If the King steps down now, there would still be a room for him as a ceremonial monarch, and he can still play the unifying role in a small yet incredible diverse country like Nepal.
If wisdom, good sense doesn't prevail and he continues to hold onto power, 'History will show him his way,' as veteran leader G P Koirala said recently,
Paras: 'Most Dreaded?'
Many commentators in the subcontinent have lately started addressing Gyanendra as the 'last Hindu monarch'. Many commentators and politicians in Nepal agree that if he doesn't win the hearts and minds of the Nepalese people and the international community, he will not be acceptable. Even if Gyanendra does so, analysts and political pundits fear, people might not accept his son, Crown Prince Paras, as the future King.
Paras as a horrible track-record as the 'royal brat'; as the misguided teenager; and even as the Crown Prince, thanks to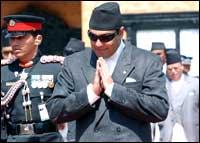 his hitting-after-drinking habits [India's Society magazine ran a cover on Paras as 'the most dreaded man in Nepal' last year]. Prince Paras hit the peak of notoriety by allegedly knocking down popular singer Pravin Gurung on the streets of Kathmandu in 1999.
The Crown Prince became more unpopular when he purchased an expensive Harley Davidson bike for himself and thrashed one of his best friends, Siddhartha Rana, at a posh Kathmandu night club in 2004.
Against such a backdrop, Paras's involvement in nature conservation as head of the King Mahendra Trust for Nature Conservation and the chief patron of National Sports Council does not seem to have repaired the damage. In contrast, his spouse, Crown Princess Himani and little crown prince and princess, Hridayendra and Purnika, are loved more by the people.
Maoist rebellion
The biggest challenge for Nepal's monarchy in recent times has been the bloody Maoist revolt. The Communist Party of Nepal (Maoist) started the violent armed conflict in February 1996 to start a republic by overthrowing the nearly 250-year-old monarchy. Over time, the revolt grew, thanks to mishandling by the string of horse-trading-plagued multi-party governments.
The massacre of the royals on June 1, 2001, added fuel to the fire as the Maoist leaders attempted to pit the masses against Gyanendra, accusing him of hatching a conspiracy to massacre the royal family members. But the unpopular rebels failed to shake the ground beneath the King's foot. Then, he hadn't started his direct rule yet.
Recently, CPN-Maoist leader Puspa Kamal Dahal, who goes under the nom-de-guerre of Prachanda, stole the international media limelight when he announced 'exile or execution' to the monarch who, ironically, enjoys considerable respect among Hindu groups in both Nepal and India.
But he was quick to add that 'the people's verdict [whether constitutional, whether ceremonial or no monarchy after constituent assembly elections] would be acceptable to the Maoists.' To this day, the rebel leaders have been demanding an end to 'autocratic monarchial rule'. The bad news for proponents of absolute monarchy is that the popular sentiment is also against the King's direct rule.
Enough lives have been lost; enough blood has flown down the Bagmati River. So, as a senior diplomat pointed out last week, someone has got to give. But then, who? Who has got to give? Ask any Nepali or a friend of Nepal, the reply will be: 'King Gyanendra'.
Only time will tell whether or not he will.
The author is chief correspondent of The Kathmandu Post in India and can be reached at surendraphuyal@rediffmail.com