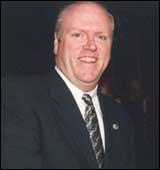 Congressman Joseph Crowley acknowledges that the US-India nuclear deal will be a tough sell in the United States Congress.
In an exclusive interview with rediff India Abroad Managing Editor Aziz Haniffa, Crowley, Deputy Chief Minority Whip in the US House of Representatives and former co-chair of the Congressional Caucus on India and Indian Americans, said the Caucus would weigh in favouring the sale of civilian nuclear reactors to India in Congress
But there will be tough opposition from non-proliferation advocates like US Congressman Ed Markey, who have concerns since India has not signed the Nuclear Non-proliferation Treaty.
Indian foreign minister 'dense': US Congressman
Crowley, one of the most active members of the India Caucus, who has helped push several initiatives to advance US-India relations and address concerns of the Indian- American community, said it would help if India became a signatory to the NPT.
You were pretty gung-ho about Prime Minister Manmohan Singh's visit and his speech to the Joint Session of Congress.
You bet. It was a positive visit, and a very positive and welcome speech. Prime Minister Singh covered all bases -- non-proliferation, the joint decision to share IT, civilian use of nuclear reactors, and the US-India CEOs Forum concept, which is a good one.
And it was really good to hear from the prime minister what really draws the United States and India together. It's one thing to hear from us, but to hear from the leader himself -- talking about the synergies, the simpatico that exists between the two nations -- was very important.
Any disappointments during his visit?
I was a little disappointed that he didn't mention (President Bill) Clinton at all in terms of the development of the relationship. It didn't happen overnight. This happened over many years. So I was a little disappointed that there was no mention of him or effort to recognise him (Clinton).
He did somewhat recognise past administrations within the Indian governments, but not the US governments in terms of what has led to today's improved relations.
Throughout the visit and especially during his address to the Joint Session of Congress, the prime minister delivered a pretty strong message about India's impeccable non-proliferation record, obviously mindful that President Bush's decision to provide India with civilian nuclear reactors has to get the okay from Congress and change the rules for this sale to go through. Do you believe it's going to be a tough sell in Congress?
It is going to be a tough sell in Congress because several people have expressed concern over the sale, not because of any concern over India, but because of what it could do to our non-proliferation laws if they are changed.
Will you guys have a tough time in pushing for this sale? I mean those members of the India Caucus, especially the Democrats, because traditionally you have been very strong nuclear non-proliferation advocates and have slammed the Bush administration for not adhering to non-proliferation commitments. At the same time you guys want to further advance US-India relations.
There's no denying that India is a nuclear weapons State. They are, whether they sign the NPT or not. I would like them to sign. But at the same time, India has tremendous energy issues that need to be dealt with. We want to make sure that whatever they do develop is of the best grade, best quality and safety levels.
As one of the most active members of the India Caucus, where do you see the Caucus going with this issue? Will there be a consensus and will it march lock step in support with President Bush's decision?
We are going to weigh this as a Caucus and see just what the plus and minuses are. But I think no matter what, it is still an advancement. It was unexpected. I don't think people expected the president to make this statement with the prime minister.
What is also very positive, and seemed overshadowed by the nuclear announcement, was the partnership on agriculture. It is very meaningful to the people of India, primarily in using the best technology and making the best use of land. That can help to feed more people not only within India but also help Indian food exports.
And I guess, hopefully alleviate the contentious issues over agriculture at the World Trade Organisation, where the US believes India is a spoiler?
That's correct. At the Doha Round this is a major issue. The US needs India's support to move the negotiations forward to successfully complete this round.
Coming back to the nuke deal issue and putting you on a spot, how will you vote if it comes down to that?
You know, I'll have to take a look and see just how it comes up and what the parameters are that the bill comes under and what amendments will have to be made in order to allow for India to be qualified for that technology. There may be room here for compromise.
I think it may be very much in India's interest to become members of the NPT.
Is it a fair characterisation to say when I try to pin you down and your saying it is something you will have to look at and see just how it comes up and within what parameters, it is sort of a reflection of the thinking of the India Caucus members, particularly the Democrats, who have been avowed non-proliferation proponents?
You will probably tend to see us more open for discussion, certainly among the India Caucus members. We recognise India -- although not a member of the NPT -- has not been proliferating nuclear technology.
That has to be recognised and a way to do that possibly maybe by sharing of (nuclear) technology information with them. But it will be helpful on both ends if we all give a little and take a little. This may mean that India needs to be part of the NPT. So let's see how it develops.
The disappointment was over President Bush's decision not to support India's bid to become a permanent member of the United Nations Security Council, even though Indian officials tried to be blasé about it.
Yes. But I think it is inevitable. A country of a billion people, especially a democracy cannot be kept out. Also, the fact that India is growing and will soon be a big power. That they don't have a say in the world body, like China, is hard for me to understand or fathom.
Even a say that is equivalent to Russia, or Great Britain, or France or the United States for that matter -- countries that have the veto power.
And, this is the best time to do it since there is a restructuring of the UN and I support the full ascension of India as a permanent member of the Security Council. I believe as time goes on more and more of our colleagues will see the wisdom of that as well.