Major General Afsir Karim (retired), who served in Jammu and Kashmir at various levels of his professional career including command of an Infantry Brigade on the Line of Control and as Major General Administration in the Northern Army, explains why Pakistan's Operation Gibraltar failed.
Continuing our series on The 1965 War, 40 Years On
In 1965, after a trial of strength in the Rann of Kutch, Pakistan chose an unconventional form of warfare to invade Kashmir.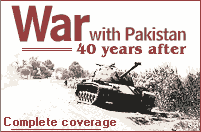 This clandestine guerrilla operation was code-named Operation Gibraltar.
The headquarters of the Gibraltar force was established at Murree in Pakistan and a force of approximately 30,000 men trained in guerrilla warfare was placed under the overall command of Major General Akhtar Malik, a high profile and professionally competent officer, who was in command of the Kashmir Division at that time.
They were given extensive training for infiltrating through gaps in Indian defences at selected points on the Cease Fire Line (CFL, now the Line of Control) with the ultimate aim of converging at Srinagar to overthrow the J&K government and declare independence.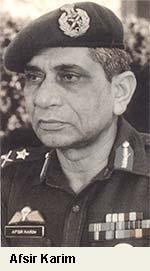 Before this operation was launched Pakistan had made military training compulsory for all men in PoK aged between 15 and 25. They eventually formed the corpus for a strong Mujahid force to supplement the regular Pakistan army and create a facade of a local uprising once they entered the valley. Various infiltrating columns were divided into eight to ten groups of about 300 to 400 men, mostly named after famous generals of Islamic folklore. These groups were armed with Browning machine guns, mortars and explosives and were fully trained to carry on their task. Their action plan in a nutshell was:
Attacks on Indian troops by infiltration with a view to inflict maximum casualties and tie down them down in various sectors;
Form a 'Revolutionary Council' in Srinagar to announce the overthrow of the state government and seek recognition and help from various countries of the world, including Pakistan;
Interdict the Jammu-Srinagar highway to isolate the Kashmir valley, and to interdict lines of communication to the vital areas of Rajauri and Poonch.
Field Marshal Ayub Khan himself addressed all the column and sector commanders of the Gibraltar Force in the second week of July 1965. This force was eventually launched in the first week of August, in various sectors as under:
Task force: Areas of Operation
Salahuddin Force: Gulmarg, Srinagar and Mandi
K Force: Uri
Khalid Force: Tithwal
Nusrat Force: Rajauri–Mendhar
Ghaznavi Force: Poonch–Rajauri
Babar Force: Nowshera–Chhamb
Tariq Force: Kargil
Qasim Force: Gurez
The infiltrators were to cross the cease-fire line in small groups, at night, through remote passes and jungle routes. They were dressed in baggy Kashmiri type of clothes to enable them to merge with the local population and conceal their weapons.
They had orders to blow up bridges to interdict Lines of Communications, attack military bases and units, destroy supply and ammunition depots.
However, the combined loads of weapons, ammunition and rations they were ordered to carry slowed their movement across steep slopes and made their task extremely difficult.
The Salahuddin Force along with some groups was to concentrate in Srinagar on August 8, 1965 and mingle with large crowds that traditionally assembled here every year to celebrate the festival of Pir Dastgir, a much-revered Sufi saint of the valley.
The next day a public meeting and several demonstrations were to be arranged by the Action Committee that had been formed to demand release of Sheikh Abdullah from jail; later an armed revolt or a coup was to be staged.
A declaration of 'Liberation' was to be issued by the 'Revolutionary Council' after seizing the Srinagar radio station and the airport. The 'Revolutionary Council' was to proclaim on Radio Srinagar that it was the sole and the legitimate authority in J&K and seek help and recognition from various countries of the world and the UN.
The Salahuddin Force infiltrated across the Pir Panjal range and split in two or three columns. One group headed for Gulmarg, while the main body went to Khag forest, which was their main base for operations in and around Srinagar.
Though the attempt to take over the airfield and Radio Srinagar failed, arson and violence was witnessed at Baramula, Badgam, Yusmarg and suburbs of Srinagar.
This group managed to instigate some collaborators to hold a rally in Srinagar on the occasion of the anniversary of Sheikh Abdullah's arrest, but they failed to muster enough support from the people to carry out their plans of overthrowing the state government in the name of the people.
The Khalid Force that infiltrated Thithwal sector inflicted a number of casualties before it was destroyed or forced back across the cease-fire line. In this sector one of our units lost 2 officers including their commanding officer and 6 other ranks. An animal transport company lost a dozen men and some of its mules.
A battalion that was to be relieved shortly lost 16 men before they destroyed the main enemy base where almost 70 mule-loads of arms and ammunition had been stored.
The Ghaznavi Force operated between Jhangar and Poonch and according to reports Pakistan transport aircraft carried out some airdrops in this area.
The force operating in Thana Mandi succeeded in cutting off a subsidiary of the Rajauri-Punch road on the night of August 7/8. Some elements from this force tried to interdict the Udhampur-Srinagar highway, but timely action by the army prevented any damage to the Chenab Bridge at Ramban and other smaller bridges along the highway that were their targets.
Pakistan and Azad Kashmir Radio, however, announced the destruction of the Ramban Bridge and the Banihal Tunnel even before the Pakistani infiltrators reached anywhere near them.
In fact, most infiltrating columns were detected and interdicted before they could carry out their intended plans. The information came from none others than Kashmiri Muslims themselves, who in general did not respond to the call of liberation and resented Pakistan's armed intrusion.
Pakistan at this stage had little support in Kashmir and their ambitious plans to overthrow the government, being highly unrealistic, were bound to fail. No one in the world was quite sure what was going on as Pakistan kept on denying its 'involvement' through repeated broadcasts and called the fighting a local uprising.
The point to note is that the US and the Western world preferred to shut their eyes to the obvious armed invasion and refused to name Pakistan as an aggressor. In the photograph: Indian soldiers raise the Tricolour at Haji Pir, August 28, 1965.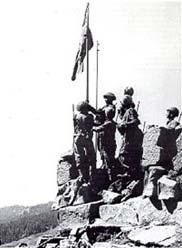 By the end of August, most infiltrating groups had been driven out and now the Indian army took offensive action to seal various routes of infiltration; they captured Haji Pir Pass and several important features in Bugina bulge in the Thithwal sector besides driving out Pakistani forces from some important posts in the Kargil sector.
The ingenious plan made by Pakistan to annex Kashmir by surprise failed because of several obvious infirmities; the people of Kashmir were not interested in a revolt except for some disgruntled elements who were a miniscule minority; most of the people were content to continue their normal lives and had no intention of giving support to a violent upheaval.
Another basic flaw in the plan was that the so-called Mujahideen were all outsiders who got no help from the locals and in most cases their presence was reported to the authorities.
However, the most important factor in the failure of OP Gibraltar was the swift and effective reaction of the Indian Army after the initial surprise to drive out the infiltrators and seal various routes of infiltration across the Cease-Fire Line.
Some years later several Pakistani generals who were involved in planning or execution of the armed infiltration in 1965 wrote books that gave details of the role played by them and the Pakistan army in the invasion.
Zulfiqar Ali Bhutto, the then foreign minister of Pakistan, and Air Marshal Asghar Khan were to take credit for masterminding and initiating the ingenious operation.
Lately the issue has been raked up by Air Marshal Nur Khan in a book in which he has castigated Ayub Khan for deceiving his own countrymen and launching a wrong operation for self aggrandisement, which posed a serious threat to Pakistan because the armed forces of Pakistan as a whole were neither aware of it nor prepared for an all out war.
In 1947, Pakistan had sent well-armed raiders into Jammu & Kashmir but denied its hand in the invasion. They reluctantly accepted their involvement only when the presence of regular Pakistan army was detected in J&K by the UN observers who were deployed there after the Cease-Fire agreement in 1948.
A similar attempt to deny involvement was made in 1965 and repeated in Kargil in 1999; Pakistani top brass seems to have learnt no lessons despite repeated failures of such operations.
It seems India too failed to learn many obvious lessons from oft-repeated pattern of Pakistan operations in J&K and did not initiate steps to raise Special Forces trained to detect and destroy infiltrating columns or groups before or after crossing the Line of Control.
One of India's leading specialists on issues related to terrorism and Low Intensity Conflicts, Major General Afsir Karim (retd) has published a number of books on the subject. He is currently the editor of Aakrosh, a journal devoted to the study of Terrorism and Internal Conflicts in South Asia.
Next: Interview with Marshal of the Indian Air Force Arjan Singh