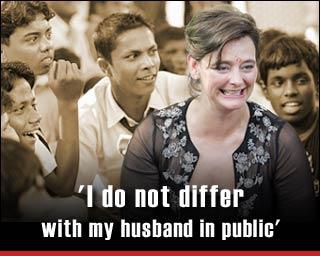 "No, I don't want to be like Hillary Clinton," said Cherie Blair, wife of British Prime Minister Tony Blair while talking to women journalists in New Delhi on Wednesday over a south Indian lunch.
She said she had no political ambitions like the former first lady of the United States.
"In last 22 years of public life I have seen it all," she said.
But she said that as a 14-year-old she had told her class she wanted to be prime minister of Britain. "But then, Maggi beat me to it." (referring to Margaret Thatcher, Britain's first woman prime minister)
At age 18, she started studying law and liked it so much that she never looked back.
Blair revealed a lot about herself in the one-hour interaction and was not shy to express her views on sensitive issues like Islam or Iraq.
She was candid, fast and straight. She was cool when talking about fashion and aggressive when putting forward the British point of view on Iraq.
Her best take was when she, quite playfully, shared her childhood fantasy.
She said in school they used to read about the history of the Raj (British rule in India) and how girls of her age wanted to come to India and fall in love with an Indian king!
Blair was wearing a black trouser, a spaghetti strap top with a transparent shirt over it, which had delicate Indian embroidery. Saying she likes "fusion fashion" and that she has a designer who helps her get "Indo-Western" stuff.
She has seen Monsoon Wedding and Bend it Like Beckham, and liked both. She said she would like to see Pride and Prejudice, but a reporter punctured her idea saying it was a bad movie.
And she has not taken too well to Delhi's hot weather.
In the morning, Cherie and her husband went to Rajghat to pay homage to Mahatma Gandhi. Since she was attending the event as Mrs Tony Blair, she had to wear "a proper British dress".
But the heat was so overpowering that she changed to an informal dress before she arrived at 5, Windsor Place on Ashoka Road for the lunch meet with journalists.
She said she is a religious person (Catholic) and believes Islam is a wonderful religion. She finds it "interesting" how Islam is practiced differently in different countries. She said the way women are treated in some places in the Islamic world needs to be looked at.
She said she is fighting a case (well known as the Begum case) in Britain on behalf of a Muslim girl who wants to wear a black coat (jilbab) over her school uniform. When she took up that case even her daughter questioned her. But she was convinced that "it's a matter of an individual's choice". She fought the case and won in a lower court.
Cherie came off as a strong woman, an aggressive professional and a determined wife who wanted to support her husband in bad times and good.
She has strong religious (Catholic) views, which she combines with what appears to be a genuine commitment to human rights, said a lawyer who knows her well. 
When asked about Iraq, she said, "I am behind my husband completely."
She believes that critics of the invasion are refusing to see the real suffering of the people of Iraq. She said the bombings and the insurgency in Iraq were not because of the presence of British and United States troops but because of "the people there".
When someone pointed out that Iraqis should be allowed to decide their own fate, she said, "We are enabling them to do that."
She regretted that there was no world forum to decide when any nation should intervene, and why and how. It seemed that she did not find the United Nations an appropriate platform to decide such issues.
On managing four children, her profession and her husband's career, Blair said that like any other working woman she struggles but that she is "lucky".
She had high praise for her children's nanny. She said she has her own office and a secretary, who makes her work easy. She emphasised the importance of time-management.
Blair was repeatedly asked if she takes care while accepting legal briefs because she is the wife of the prime minister.
She said she doesn't accept briefs from the government since her husband became the prime minister. In fact, many times she fights against the government.
She found the debate over Nalini Chidambaram (Finance Minister P Chidambaram's wife) accepting a case on behalf of the government interesting.
She said she has been fighting for parental leave, which the British government is not implementing properly.
When she was more than eight months pregnant, the issue came up for debate in the courts and it became big news. At one point she complained, "Sometimes, you know the press is not very fair."
On the killing of a Brazilian immigrant by the British police, she stuck to the official line although later in a day she was going to deliver a lecture on human rights.
She admitted that she does "not always" agree with her husband. But she said, after a pause, she does not differ with him "in public".
She said to agree with him on all issues "either my husband has to be a saint, or I a subservient".
That, she said, "is not in my nature."
Photograph: Kirsty Wigglesworth/AFP/Getty Images
Headline image: Imran Shaikh