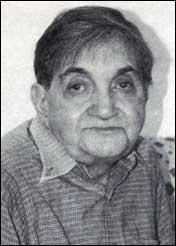 The world of Indian literature stood poorer as one of the country's most illustrious fiction writers Nirmal Verma breathed his last at the All India Institute of Medical Sciences late Tuesday night.
Described as a luminary of Hindi prose, Nirmal Verma heralded the New Story movement in Hindi literature, along with Mohan Rakesh, Bhishma Sahni, Kamleshwar and Amarkant.
His first collection, Parinde (Birds), is considered a milestone in the nayi kahani form in Hindi literature. The versatile and prolific writer went on to publish a considerable body of work, winning national and international recognition.
He was born on April 3, 1929 in Shimla in Himachal Pradesh, where his father worked as an officer in the Defence Department of the British Indian Government. He was the fifth child among his eight siblings.
Verma wrote his first story for a students' magazine in the early 1950s, little realising that writing was going to be his lifelong vocation.
A passionate activist and idealist since his student days, Verma regularly attended Gandhiji's morning prayer meetings in 1947-48, even though he was a card-holding member of the Communist Party of India. He however, resigned from the primary membership of the party in protest against the Soviet invasion of Hungary.
Known as a major voice among Indian intelligentsia for consistently upholding the right of individual freedom, he boldly took a stand against former prime minister Indira Gandhi during the Emergency and also advocated the cause of a Free Tibet.
His fictional art brings out the crises in modern Indian social structures, arising out of disintegration of the joint family structure and changing moral and ethical values in the context of industrialisation and massive migrations.
His works also take full note of the emergence of the 'new' independent woman, which created sort of a revolution in the network of human relationships.
"These important developments in the Indian family system have created situations in relationships that have become the central theme of my fiction," Verma once said.
"Nirmal Verma had a wonderful understanding of the civilisational roots of the country and was the modern voice of the genius of India. The characters of Nirmal's novels are disturbed people who are in search of identity and are victims of an inner unrest," Sahitya Academy president Dr Gopichand Narang has said.
After finishing his MA in History from Delhi University's prestigious St Stephens college, Verma taught for a short time, besides writing for various literary magazines. He has published a total of five novels, eight collections of short stories and nine books of essays and travelogues, which have been translated into several European languages.
Verma also spent about 10 years in Prague, Czechoslovakia, where he was invited by the Oriental Institute to initiate a programme of translation of modern Czech writers like Karel Capek, Jiri Fried, Joseph Skoversky, Milan Kundera, Bahumil Hrabal, etc, into Hindi.
Verma translated into Hindi, nine world clasics and returned to India in the aftermath of the Prague Spring' in 1968.
His last novel Antim Aranya has been hailed by critics for its circumspect suggestiveness, which characterises his masterly prose style. His other novels are Ve Din (1964), Lal Tin ki Chhat (1974), Ek Chithra Sukh (1979) and Raat ka Reporter (1989).
Verma was equally at home with the short story genre. "He brings characters and the place alive in the true short story writer's economy," the London Magazine has said about his works, which include Parinde (1959), Jalti Jhari (1965), Pichli Garmiyon Mein (1968), Beech Bahas Mein (1973), Meri Priya Kahanian (1973), Pratinidhi Kahaniyan (1988), Kavve aur Kala Pani (1983) and Sookha aur Anya Kahaniyan (1995).
He also travelled widely in Europe from 1959 to 1970 and wrote seven travelogues, of which a few are Cheeron Par Chandni (1962), Har Barish Mein (1970) and Dhund Se Uthti Dhun.
His dispatches appeared regularly on the editorial pages of The Times of India, for which he came to be known as 'an Indian writer exiled in Europe''.
Verma, who once said, 'essays are an important and indispensible part of my writings and complement my fiction', has published several collections of essays. He also has to his credit a play, Teen Ekant (1976).
The BBC Channel Four telecast a film on his life and works in 1988. In 1996, he was nominated for the Neustad Award of the University of Oklohoma, instituted by the magazine, World Literature.
Verma was awarded the prestigious Jnanpith's Murtidevi Award for his book of essays, Bharat Aur Europe: Pratishruti Ke Kshetra. He received the highest literary award of India, Bharatiya Jnanpith Award, in 1999.
Besides these, Verma had earlier been honoured with Sahitya Akademi Award, Padma Bhushan, Sadhana Samman, the Lettres Ulysses Award for the art of Reportage and Maithili Sharan Gupt National Award of the Madhya Pradesh Government.
He was also a Fellow of the Indian Institute of Advanced Study and the Sahitya Akademi. His last assignment was as Chancellor of the Mahatma Gandhi International Hindi University at Vardha.