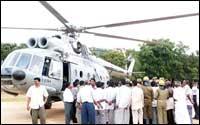 Heavy rainfall due to the North East Monsoon has thrown normal life out of gear with many low-lying areas flooded in Tiruchirapalli, Karur and neigbouring areas in the last 24 hours.
Crops have been submerged on hundreds of acres of land even as the Stanley Reservoir at Mettur in Salem district continued to receive record inflow of water.
The heavy discharge of water into the Cauvery River and diversion of water into Coleroon River triggered rumours of floods, with district authorities swinging into action to reassure the people.
Fire services personnel were in a state of readiness to respond to any emergency. The Public Works Department was also geared to meet any eventuality.
About 30,000 sandbags have been stockpiled. About 2,800 people from low-lying areas were evacuated and accomodated at government schools.
The rain also claimed the life of a eight-year-old girl, who was crushed to death when a portion of her hut collapsed early on Tuesday.
Four persons were injured in a similar incident at Nadukondayampettai in Tiruvanaikovil.
Meanwhile, the local administration has declared a holiday for all eductional institutions due to the heavy rains.
Authorities said though the situation was alarming in Karur district, it was well under control. Sources in the district administration told UNI that all precautionary steps had been taken as the Cauvery River was in spate and heavy rains were continuing. Community and marriage halls were kept ready to accomodate evacuees, they added.
Plantain, banana and sugarcane crops on hundreds of acre of land in Tiruchirapalli districts have come under a sheet of water, causing concern to the farming community.
Meanwhile, the water level in the Stanley Reservoir across River Cauvery stood at 121.330 feet on Tuesday morning. The inflow was 2,09,343 cusecs and the discharge 2,12,283 cusecs.
PWD sources told UNI that Upper Anaicut dam in Mukkombu in this district was getting 2,27,647 cusecs discharged from the Stanley Reservoir.
From the Upper Anaicut, 1,57,500 cusecs was let out into the Coleroon River and 70,027 cusces into the Cauvery River.