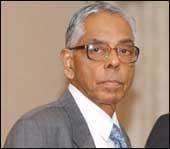 At a time when India and the world are under constant threat from terrorism, India's National Security Adviser M K Narayanan stresses on the importance of rooting out terrorism.
"You can deal with the cause, you can deal with the grievance, but you can't justify terrorism," he told Managing Editor (National Affairs) Sheela Bhatt and Editor-in-Chief Nikhil Lakshman in an exclusive, hard-hitting interview.
Last fortnight, in a four-part interview, Narayanan discussed India-US relations in the context of Prime Minister Manmohan Singh's historic visit to Washington, DC in July.
In this two-part interview, Narayanan, a former director of the Intelligence Bureau, discusses the biggest challenges to India's national security. Interestingly, he believes the threats are internal more than external.
'Bush impressed with our democracy'
Returning to the issue of terrorism, the prime minister, after many months, attacked Pakistan in his Independence Day speech saying he wants Pakistan to dismantle the terrorism infrastructure. Is the government in possession of information that jihadi terrorism is on rise again?
It's not correct to say the prime minister has not said so (in the past). Even when Musharraf spoke to him about (the rains in Mumbai)... at the end of it he (General Musharraf) talked about we have to move forward.
And the prime minister stressed upon -- of course we will move forward, please respect -- and I am repeating this to you, very specifically, categorically -- that if we don't see a reduction in the militants who come from across the border from your side into our side, you can put a brake to all our dialogue.
He has made it clear... (On August 15), of course, he made it from the ramparts of the Red Fort that gives it bigger resonance, but this issue has been made consistently at every stage. But this is not being used to say we will not talk to Pakistan till you…
What has been President Musharraf's response?
President Musharraf said wait and see for a month from now. President Musharraf is, of course, a past master in deflecting all this kind of thing.
'Certainly we are no supplicants of the US'
You mentioned in your India Today interview about the sophistication of the jihadi attacks.
The problem that we see now is that you have more sophisticated car bombs, the placements, the kind of targets that we are talking of. Soft targets are, of course, always there. Religious places, economic emblems, army mess: things that could create a tremendous reaction.
More and more we find they are coming with specific instructions to target (those kind of places). All these mean greater degree of planning, greater degree of calculated sort of deliberation of what to do. That's the thing that worries you.
Do you believe the Gujarat riots has had a big impact on the young Muslim psyche?
I don't accept this answer that every time something happens... that means you are living in the age of an eye for an eye and a tooth for a tooth. I think the prime minister has made it very clear that no cause can justify terror.
If Gujarat has happened or XYZ... if there are millions of things like that... why only Gujarat? Then you should have Sikh terrorism all your life. If you start that argument who started what, then it's a chicken and egg situation.
I think we need to be very clear. That's the first thing to root out terrorism. You can't justify terrorism.
You can deal with the cause, you can deal with the grievance, but you can't justify terrorism. I am sorry to say that the press doesn't ever do this. There is no cause that can justify terrorism!
There is the argument that India's close relationship with America -- as you know world opinion is not much in favour of the Iraq war -- and since we have the second largest Muslim population, it is said it can also create an internal effect.
We have the second largest Muslim population, the second largest Shia population. We are trying to tell the rest of the world that we can tell you how to deal with this problem. But if you justify this (terrorism), then you are lost.
'We are not going to sign the NPT'
Gujarat should never have happened. The Sikh riots should never have happened. But if you say that is the cause then there are million issues. Does it become a cause only if so many hundreds die? It can happen if only five people die. If you try justifying, then there is no limit to it. I don't think you can justify terrorism for any reason.
I am not trying to justify terrorism. I am trying to find out if the government recognises this phenomenon and is doing something to address it. Because many young Muslims are still very, very angry about Gujarat and...
They are angry about so many things. They are angry about Kashmir, they are angry about... You just cannot accept this. I refuse to.
Yeah, you have to rehabilitate people. You have to recognise their demands. The answer to that is not that we will allow them to indulge in violence. Unless that is understood I believe you can never deal with terrorism.
That is what Pakistan says about jihadi terrorism in Kashmir. You have the issue of Kashmir, does the issue of Kashmir justify terrorism? Now the Iraq war is the rallying point. If you accept that, then there is no limit to it.
The sophistication you mentioned -- are we going to see more attacks on emblematic figures like perhaps IT company campuses? Do you foresee attacks like this?
It can catch world attention, that is one way. But the other thing is that every time you do that the jihadis are losing whatever support they have. The World Trade Centre set them back sufficiently in a way.
See, the basic point the jihadis must realise -- something we have avoided doing in Pakistan, whatever may be the allegations that are made -- is that you cannot bring down a nation by killing a few people. Certainly not in a country like India with a billion people.
'We will decide how many bombs we want'
When a few lives are lost you feel sad and sorry, the country is not going to implode because of it. We have lived through the Sikh riots, we have lived through the Gujarat riots. We have lived thorough language riots in the past. We have gone through all that.
I think the greatness of India is really that we have not used this to carry out... 1984 and 2002 are aberrations. The less that we sort of hype it the better for our nation.
Photograph: Paresh Gandhi
Part II of the interview: What are the greatest challenges to India's national security?