In our continuing series on The 1965 War, 40 Years On with Pakistan, Air Commodore Jasjit Singh (retired), one of India's leading strategic thinkers, looks at the lessons both nations ought to have learnt from that conflict, but obviously have not.
There are many lessons of the war that Pakistan launched 40 years ago.
Ever since, it celebrates 6th September as Pakistan Defence Day, conveniently ignoring the reality that it had launched a 6,000 strong Force Gibraltar into the Kashmir valley at the beginning of August that year.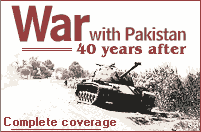 And when this guerrilla force started getting rounded up, largely helped by the local population which it was supposed to incite into revolting, it launched its Operation Grand Slam on September 1, 1965 across the international border.
The launching of Operation Gibraltar followed Pakistan's military aggression in the Rann of Kutch four months earlier. It also created an impression that the 1965 war was a great victory for it, especially between the two air forces. Among many issues that need to be revisited, let us take intelligence first.
Normally failures of intelligence related to wars attract much greater attention than any successes which perforce must remain in the realm of secrecy for a variety of reasons. But we seem to have had more than our share of intelligence failures.
Invariably every war that we had to fight contained in no small measure this malaise, although those in 1947-1948 were perhaps both understandable and also had less negative impact. But the most important question that we must ask is: Have we learnt any lessons from our failures?
The United States set up 27 commissions and committees over the past six decades to review the functioning of its intelligence apparatus. And the reports of these committees and commissions are publicly available though parts of these no doubt have remained classified.
In our case, there have been selected leaks and personal explanations and impressions, but one finds little in the public domain to understand the nature and causes of past failures.
At the root of our problem lies the issue of intelligence of military significance which seems to have been ignored in the past. It is, therefore, not surprising that though a number of books on intelligence have been published in recent years, they do not touch the issue of intelligence of military significance and for purposes of assessing the military situation.
It is in this context that we need to recall what happened 40 years ago to try and see what lessons can be drawn for the future.
There has been a lot written about the intelligence failures in 1962, but little attention has been paid to those of 1965. Inevitable questions arise: Did we have any forewarning or estimate of the guerrilla operations before the event? Did we assess how Pakistan might respond to our taking of Haji Pir Pass and other enclaves across the then Cease-Fire Line in J&K, and be prepared for it? In other words, was Pakistan's armour offensive was expected? If so what were our own preparations?
After all, by 1965 it should have been known that Pakistan's first preference to take Kashmir by force in 1947 was to launch an invasion was to cut the Jammu-Kathua road.
And did Pakistan make its assessments correctly?
Lieutenant General Harbakhsh Singh's memoirs as the then army commander (A Soldier Remembers) would indicate that this was expected and hence the issue had been cleared at the level of prime minister during summer that our response would be to counter-attack across the border in Punjab to relieve the pressure in the Jammu region.
But by all accounts this seems to have been triggered at the level of the army command, not at the level of higher defence organisation. There is no indication even in the official history of the Chiefs of Staff Committee having met to consider the issues.
Surely, at that level some institution would, or should, have undertaken an assessment after Rann of Kutch and then during Force Gibraltar action?
But we find that the outfit which should have done this, the Joint Intelligence Committee (JIC), which had been established in 1947 to provide assessments of intelligence of military significance, had been removed from under the Chiefs of Staff Committee after the 1962 debacle. This naturally deprived the top military leadership of the country with the one tool so crucial to military planning. The fact that we were ignorant of Pakistan having raised a third armour Division only reinforces the point.
A bigger failure with a strategic impact was to follow. We failed to assess the limits of Pakistan's stocks of ammunition in spite of knowledge of the fact that the USA normally supplied its clients with less than 30 days ammunition for arms supplied by them. Pakistan's military in 1965 was overwhelmingly equipped with American arms.
By the 22nd day of the war, it had practically run out of ammunition and would have collapsed in a couple of days if the war had continued. This would naturally have had far reaching consequences for sub-continental history.
But then this pales into insignificance when viewed in the context of our failure to assess our own stocks of ammunition during that war. From all known accounts it appears that the Chief of Army Staff was more than willing for an early cease-fire on the assumption that the Indian Army was running short of ammunition.
The truth was that the main depots, having moved the ammunition stocks forward were sending in returns of having run out of stocks! Post war accounting showed that less than 10% of ammunition stocks had been used.
What appears bizarre is that it took us another five decades to establish an organisation to provide intelligence assessment of military significance, triggered finally as it was by the strategic as well as tactical surprise by Pakistani military aggression in Kargil sector in 1999 due to our abysmal intelligence failure.
Our foreign intelligence agency, the R&AW, does not wish to be polluted with people with military experience and expertise. One only hopes that the new organisation, the Defence Intelligence Agency (DIA), has got down to undertaking assessments rather than mere collation of information and/or management of defence attaches etc.
The DIA in the United States employs a large force of analysts specialising in area studies as well as specific issues with long tenures, with 60 per cent of them being civilians.
Over 95 per cent of US intelligence community is composed of technical personnel and academics in more or less equal proportions. One wonders whether the role and manning of DIA would meet future needs?
What we need to remember is that while information provides the basis of intelligence assessment, it is finally what you make of that information that is crucial; and the worst enemy of accurate intelligence assessment is the mindset of people dealing with it, or making policy on its basis since tends to create biases and shaping of judgement according to the dictates of the mindsets.
Intelligence failures, more often than not, are failures more of assessment rather than simply lack of information; and analysis and assessments are both an art and a science that requires its own specialisation.
The second major lesson of history is to learn the right (and not the wrong) lessons of history.
Unfortunately for each one of them, Pakistan and India drew many wrong lessons from the war. Pakistan started to believe that it had defeated India, especially in the air. And that this was due to its assumption that Pakistani military was intrinsically capable of superior strategy and professional ability than its parent Indian military -- the 'one Pakistani being equal to ten or twenty Indians' syndrome.
In fact President Ayub Khan's written directive (drafted by foreign minister Zulfiqar Ali Bhutto) to General Musa, the commander-in-chief Pakistan Army which was to launch Operation Grand Slam stated that 'As a general rule Hindu morale would not stand more than a couple of hard blows delivered at the right time and place.'
There is no doubt that its military was equipped with weapons of far superior technology than that with Indian forces and these were well absorbed into the forces over previous years.
The Indian military, on the other hand, was in the middle of a massive expansion and reorganisation brought about due to the Chinese invasion in 1962. Its weapons and equipment was of a lower technology. Its fighting formations were under-strength, under-trained and under-equipped since available manpower and equipment was being distributed among nearly three-times the size being created than a mere five years earlier.
Few militaries in history have had to fight a well-equipped professional military force under such circumstances. This was in fact Bhutto's argument for a war at that stage which Ayub was reluctant to do. So where did Pakistan fail?
Pakistan's political and military strategy was flawed, both in concept and execution. The central failure was to have assumed that the Mujahideen Force Gibraltar would not only get the support of the people of Kashmir valley and rise in revolt. But nothing like this happened.
In 1989 the then army chief General Aslam Beg acknowledged publicly that the previous strategy was flawed, and promised that a new strategy was now in place. More of it later.
The second flawed assumption was that India would not launch a counter-attack after Grand Slam was launched. Major General Shaukat Riza in his three-volume book on the Pakistan Army (with a foreword by General Zia ul-Haq, then army chief and martial law administrator) lamented that 'Operation Grand Slam was a gamble in which the other side (India) did not play according to our rules.'
Ayub's information secretary Altaf Gauhar was to write after the Kargil War in 1999 about Pakistan's four wars and repetition of the same wrong assumptions every time.
In 1965 the mild Prime Minister Lal Bahadur Shastri had declared in Parliament and on radio much earlier that India would respond at a time and place of its choice if a war was imposed on it. Pakistan leadership paid no attention to it (Pakistan's then army chief General Musa believed this was only bluster) and had hardly catered for it till Indian Army almost reached the outskirts of Lahore.
Only the Pakistan Air Force was better prepared.
But as Aslam Beg had stated, Pakistan learned from this mistake and prepared the ground well for the launch of its jihadi war in Kashmir in 1988. It was India that did not pay adequate attention to the alienation of the population in the late 1980s which provided a fertile ground for Pakistani intelligence agency to expand violence with external mujahideen being brought in to execute terrorism.
India also does not seem to have paid adequate attention to the rising Islamisation from Z A Bhutto's time (rather than only after General Zia took over, as conventional wisdom would have us believe). Few realised that Pakistan Army changed its motto in 1976 under an elected government to include 'Jihad' as the third value, and that the true meaning of "strategic depth" started to emerge from that time.
Aslam Beg also talked in 1989 about a 'new' doctrine of 'offensive defence' where war would be fought in Indian territory. Pakistan's previous history in 1947 and 1965 showed enough signs of firm belief in the strategy of covert guerrilla war as the precursor to the overt war with regular forces.
American scholars of Pakistan and its army like Stephen Cohen were candid in writing about the importance of waging guerrilla warfare in the thinking of Pakistani military officers who studied the strategy deeply over the decades. And yet we were the ones to be surprised in Kashmir in spite of a covert war through terror being waged in Punjab since 1984 focused on the area that provided the lines of communication to Kashmir and the launch area of Indian counter-attack (like Akhnoor and Gurdaspur-Amritsar districts did in 1965).
Nuclear weapons would provide the means of defence, while war through terror in the name of religion would provide the offensive component. And we find great coincidence between the acquisition of nuclear deterrent capabilities and the mounting of a war through terrorism all the way from 1983 when Pakistan tested its first device to the maturing of its nuclear deterrent in 1989.
It also appears that Indian Army had undertaken a war game called 'Operation Topac' sometime before 1988 which did estimate the nature of this covert war as it did finally emerge. But it is not clear how far this assessment influenced our security policies.
Air Commodore Jasjit Singh is a former Director of Operations, Indian Air Force, and former director of the Institute for Defence Studies and Analyses.