A powerful earthquake rocked many parts of North India on Saturday with the Kashmir valley bearing the brunt where nearly 300 people, including 41 security personnel, were killed and over 700 injured.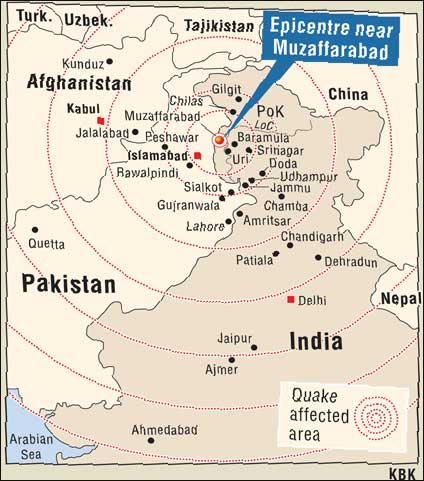 Information Minister S Jaipal Reddy gave the details after a meeting of the Union Cabinet in New Delhi.
Mehbooba Mufti, president of the People's Democratic Party told rediff.com over telephone from Srinagar that the worst affected area was Uri sector, she said, where over 100 dead bodies have already been recovered from the rubble.
"We are yet to fathom the full extent of the damage," Mufti told rediff.com, "We are still receiving reports of damage. The collateral damage is also huge, we have over 150 people being treated for injuries in various hospitals."
Chief Minister Mufti Mohammed Sayeed, who returned to Srinagar from New Delhi this morning, has already left for Uri sector.
The casualty figures, Chief Secretary Vijay Bakaya told the media in Srinagar, excluded the army's 36 soldiers who were killed in Uri sector when their bunker collapsed in the earthquake. The main minaret at the Hazratbal shrine, home to the holy relic of Prophet Mohammed, has been damaged, and the TV tower atop Shankaracharya hill has collapsed. Srinagar has also been experiencing a wave of after-shocks through the day.
Uri sector, Bakaya said, was the worst hit, and accounted for 130 casualties. Eighty per cent of the houses in this region were damaged in the quake, he added. Other regions that were badly affected were Baramulla, Kupwara, Poonch and Udhampur. Baramulla district was the worst affected where 142 people died followed by Kupwara district (51) and Srinagar (7). Eight persons were killed in Poonch and four in Udhampur.
The state administration, Bakaya said, was doing everything in its powers to provide medical help to the people. Doctors' leave has been cancelled, and those already on leave have been asked to report for work. Two helicopters would fly in the injured from Dangdar and Uri to Srinagar for medical treatment. Four hundred tents have been rushed to these two areas, and school buildings there have been evacuated to provide shelter.
Power supply has been restored to hospitals in Srinagar, while the restroration of water supply will take some more time, he added.
Javed Mukhdoomi, inspector general of police, Kashmir zone, said the worst hit town was Dangdar in Kupwara in north Kashmir, near the Line of Control. Almost the entire town has been razed, he said. "We are trying to send medical and rescue teams there," he added.
Over 400 houses flattened in Jammu and Kashmir, when a earthquake measuring 7.4 to 7.6 on the Richter scale hit North India on Saturday morning. 
Tremors were also felt in Delhi, Srinagar, Amritsar, Patiala, Jaipur, Chandigarh and Dehradun.
The injured are being treated at the Srinagar's SMHS hospital and the Uri Field Hospital, with many makeshift medical facilities being set up to help the injured. Besides injuries, people were being treated for palpitations and shock, authorities said. One senior police officer told rediff.com that "Scores of people" have complained of heart palpitations after the tremors.
16 army personnel were killed in a bunker collapse in Uri sector of Kupwara, defence officials said.
Tell us your quake experience!
"Destruction is massive in Uri sector in Baramulla district of Jammu and Kashmir, which falls close to the epicentre. Initial reports are that not many houses are standing in the area," defence officials said.
The Jammu and Kashmir Highway has been closed due to landslides at Siraj area in Ram Ban belt.
In Uri, too, the quake triggered landslides, sending two buses, along with their passengers into a gorge. The quake also cut off villages and the Srinagar-Muzaffarabad Highway. Fires have broken out in several houses due to the earthquake, officials said.
A house collapsed in Ramnagar area in Udhampur district, killing one Billoo, and injuring two of his daughters.
Thirteen houses collapsed in Rajouri, Poonch, Katra and Jammu area which is near the epicentre of the magnitude quake.
At least 27 government buildings have developed cracks and panic-stricken employees have refused to enter the offices, eyewitnesses and official sources said, adding that the people are still standing in the open fearing more tremors.
Rescue teams were despatched to remote areas in border districts of Poonch, Baramullah and Kupwara to carry out rescue operations.
Helicopters and aircraft were also being pressed into service to assess the damage and rescue those trapped in the debris.
There has been no communication with villages in the districts and army teams have been sent to re-establish contact with them.
South Kashmir also has suffered damage, but details were not available yet.
Local television in Pakistan said the quake caused panic in Islamabad, as well as in nearby Rawalpindi, Lahore, Peshawar and Quetta near the Afghan border.
At press time intermittent tremors are still being felt in Srinagar and other parts of Kashmir. The people are gathered outside their homes, shaky, and too frightened to go inside. Students who were giving their final exams today ran out of the exam halls after the tremors began, leaving their answer sheets behind. The earth shook for four minutes, a resident said.
(With inputs from PTI)