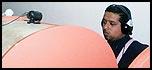 On the occasion of 15 years of the Internet, we have been running a series on cybercafes around the country, trying to give you a glimpse of India's online habits.
But, of course, no such initiative is complete without you, dear reader.
It's time for YOU to let us know about interesting anecdotes, incidents and people at a cybercafe you have visited.
What kind of people frequent the cybercafés in your town? What do they use the cybercafés for? How busy are these places? Do you meet strange people at the cafés?
Don't let our questions restrict you. Share your most interesting cybercafe experience right here.