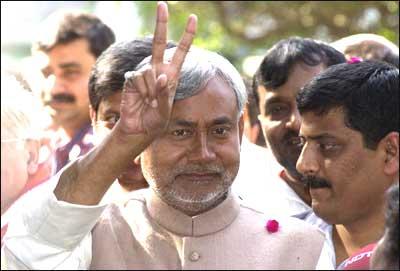 With victory in Bihar, Nitish Kumar is now the Chief Minister in-waiting.
As the poll picture grew clearer, Kumar -- wearing a smile of victory -- spoke to the media describing the results as a "vote for change and good governance." The chief ministerial candidate of the National Democratic Alliance (NDA) said he would work for the people of the state and its development.
The Janata Dal-United-Bharatiya Janata Party (BJP) combine was leading in 148 seats, ensuring its clear majority in the 243-member assembly that has gone for its second election in a year. Kumar also said, "The people of Bihar were disappointed and disillusioned with mis-governance. They have placed their trust in us for a better government."
Photograph: UNI