Army officers from India and Pakistan on Monday shook hands and exchanged pleasantries at the frontier point Chakhan-Da-Bag as the first of the three points on the Line of Control was opened for earthquake relief work.
Brigadier A K Bakshi and his Pakistani counterpart Tahir Naqvi exchanged white flags and hugged each other as hundreds of locals and scores of journalists converged on both sides of the divide for the landmark occasion.
Complete Coverage: Tremors Across Borders
Emotional locals from both sides then took over as they rushed to talk and embrace their near and dear ones separated for half a century. Indian and Pakistani scribes were also seen hugging each other and clicking photographs.
"It's a good feeling," Army officer Santanu Ghose said after shaking hands with Pakistani Colonel Ali Khan across the white ribbon marking the LoC.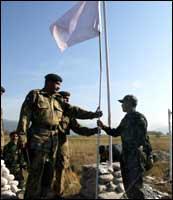 India and Pakistan had decided to open three points on the LoC to facilitate relief work in the wake of the October 8 quake which devastated both sides of Kashmir killing thousands of people.
The crossing point at Kaman in Uri will open on November 9 while Tithwal in Tangdhar on November 10.
All the three points were to open on Monday but opening the other two points were delayed due to non-completion of work, including laying and clearing roads of landslide debris and de-mining in the area.
Relief material for the earthquake victims will be sent through these crossing points and people would be able to cross the LoC once their names are approved by both sides.
"Today, we will transport relief material across the LoC," Divisional Commissioner of Jammu region, B L Sharma said.
He added that trucks carrying rice, tents and medicines, have lined up on the Indian side and soon Pakistani trucks will cross over and offload the material.
Shortly after the official ceremony, some anxious moments were witnessed on the other side as people rushed to relief point in the hope of meeting their relatives, forcing Pakistani security forces to fire tear gas shells to control the mob.
Brigadier Bakshi said: "People have expressed their happiness. We have to control them. But it should not be seen as something wrong has happened."
A senior police official from Jammu said that the arrangements on the Indian side were clear and it had been conveyed through the media that people wouldn't be allowed to cross over on Monday.
"Probably there was some confusion on the other side and we saw many people had gathered and it was getting difficult to control them. The police on the other side had to use tear gas and fire in the air," he said.
Indian officials, meanwhile, said the divided families would not be able to meet immediately as only relief material would be ferried across the LoC as of now.
The divided families will have to wait for another 5-7 days as those wishing to go to Pakistan-occupied Kashmir would have to go to the regional passport office first to seek clearance, Sharma said. He said the process was likely to take up to a week.
Photograph: AAMIR QURESHI/AFP/Getty Images