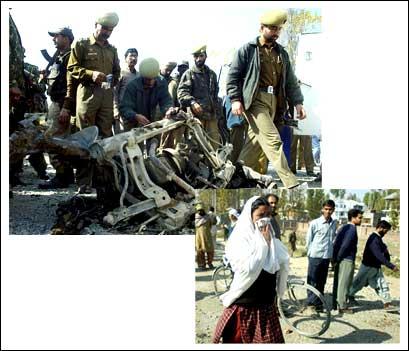 It happened a little before the swearing-in ceremony of the new chief minister of Jammu and Kashmir.

A powerful car bomb blast ripped through Nowgam bypass in Srinagar, near the private residence of outgoing CM Mufti Mohammad Sayeed.
At least six people were killed in the blast, which took place about 15 kilometres from the venue of the swearing in ceremony of Congress leader Ghulam Nabi Azad.
The Srinagar Police had prior information about a militant attack though, which is why the car carrying the bomb was stopped outside Nowgam before it was detonated.
The militant outfit Jaish-e-Mohammad has reportedly claimed responsibility.
Left: Indian police look at the remains of the car used as a bomb.
Right: A Kashmiri woman wails at the site of the explosion in Nowgam, on the outskirts of Srinagar.
Photograph: TAUSEEF MUSTAFA/AFP/Getty Images