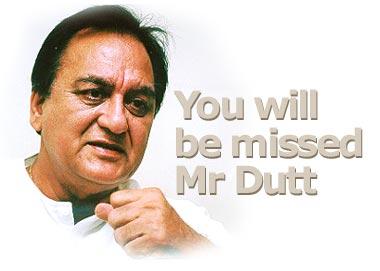 Sunil Dutt was my MP. He represented my constituency for five terms, and I feel sad that he will do so no more.
Mr Dutt was more of a politician for me than an actor. Most of his best films were done during my parents' time and I never thought much of him in the films I saw later. He was charming with Nutan in the song Sawan Ka Maheena but could never match up to the eternal charm of someone like Guru Dutt.
The one film that I remember was Dard Ka Rishta, which was directed and acted by him, and was the story of his little daughter's (played by Khushboo) battle and survival against cancer. I cried inconsolably during the film and made many of my friends at boarding school quite sad by telling them the story after watching that film.
But it was as a politician, that Sunil Dutt came alive. Not in those portrayals on celluloid but in that trademark kurta-pyjama and Congress-sash around his neck. He was not a great speaker, but had an energetic spark about him. He could go on long padyatras, take up the cause of the slum dwellers, fall terribly ill and get wheeled out of Mumbai's Breach Candy Hospital only to start another campaign or yatra.
At 74, he was too old to be our sports and youth affairs minister, but Mr Dutt carried it off without much criticism. He may have had some misgivings about Sharad Pawar or Sanjay Nirupam but you couldn't dispute his decency.
I think what set him apart from the muck that are often our leaders is that Sunil Dutt had a certain goodness about him that made him likeable. That made people vote him back to power not once but five times.
When I went to vote in the last election, there were very few people in the queue at the polling booth -- and for the life of me, I can't remember who were the other candidates in the fray -- but it was pretty certain that Mr Dutt would be re-elected.
Sure enough, he was.
In the last couple of years, the area where I live has changed tremendously. There are now pavements to walk on, roads have become wider, gardens have come up where there were clear patches of land. Though the number of street children on the roads has increased, a row of houses has been constructed for slum dwellers besides an impressive flyover.
Some of this work was done under banners proclaiming that this was coming up from Sunil Dutt's MP fund. If you were to travel between Bandra and Andheri in northwest Mumbai, you will see many such banners even now.
It will be awkward to see them on my way back home tonight, knowing that Mr Dutt was there this morning and was cremated in the evening.
I don't know who will be my next MP. But it will be with a twinge of loss that I will stand in queue to vote the next time.
Goodbye, Mr Dutt. You will be missed.
Photograph: Jewella C Miranda
Image: Uttam Ghosh