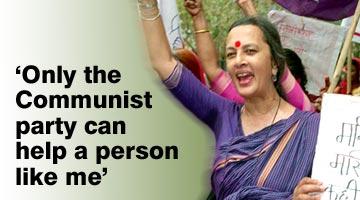 She exudes the sophistication of India's culturally endowed and stylish urban people. She is a very special person in a setup where the class tag is a sin. She is the wife of Prakash Karat, India's most influential Communist today, general secretary of the Communist Party of India-Marxist.
She is 57, has stunning eyes and a chiselled face which refuses to age.
Brinda Karat could be introduced like this but should never be.
That would be being terribly unfair to an intelligent lady who has tirelessly fought for India's poor. As a trade union leader belonging to the Left party she has fiercely crusaded for underprivileged workers and dalits for more than 30 years.
After years of struggle and morchas on Parliament street, she was elected last month to the Communist Party of India-Marxist Politburo, the first woman to ever enter that male-dominated Marxist institution.
Unavoidably she has been also fighting the stereotypes created by Indian society for revolutionaries like her. Since her equally talented sister Radhika Roy and brother-in-law Dr Prannoy Roy run NDTV (New Delhi Television), Brinda's Leftist orientation is intriguing for many.
The mystery of being Brinda also get deeper because she studied at Dehradun's elite Welham Girl's School and Delhi's elite Miranda House college. These institutions are perceived as an antithesis to what Marx wrote and advocated.
What made the former Miss Miranda House a rebel?
Brinda Karat tries to answer that question while talking to Senior Editor Sheela Bhatt about events that shaped her life and dragged her to the Left from Right.
On her parents and family
My mother died when I was just five years old. Her name was Oshrukona meaning teardrop in Bengali. She was named thus because after many tears she was born to my grandmother. She was a kind of rebel. In her times there were Laxmanrekhas for women, but my mother, the only child in the family, studied a range of things.
Suraj Lal, my father, was from Lahore, and came to Calcutta looking for a job. He first joined the port commissioner's office and later became a director in reputed companies in the corporate sector. Their marriage was an event.
My maternal grandma had passed away by the time my mother decided to marry. My maternal grandfather's elder brother imposed a social ban on attending my parents' marriage because it was an inter-caste marriage. Her family was quite a reputed family in Calcutta. My mother then contacted my grandma's family. She belonged to Subodh Malik's family. He was a well-known freedom fighter; at his home Sri Aurobindo and Tagore met national leaders.
My parent's marriage took place in Subodh Malik's home. That way, at a personal level, she was a rebel. I think my mother must have influenced my father. We are one brother and three sisters. My brother and elder sister have passed away. My father brought us up in a liberal and secular atmosphere. Till I was 12 or 13 I lived in Calcutta. Then I went to Welham. I was 16 when I joined Miranda House.
At that time I was not at all politically motivated. I had no idea of the world of politics. Young women today are so conscious of the world around them. For us it was a closeted world. We were very much into college activities. I was very much into drama and theatre and debates.
The Vietnam War changed it all
One of my teachers in college was Devaki Jain (the feminist economist and NDTV anchor Sreenivasan Jain's mother). She influenced me a lot in my thinking. After getting a degree in Arts I went to London in 1967. I had a job with Air-India in Bond Street for four years.
When I was in London a lot of Indian students were there. They were all studying. I was the only one working. At that time, in all of Europe and across the Atlantic, there was a huge movement against US intervention in Vietnam.
That became the trigger to question the establishment. That was the time for young people to question what was given as socially acceptable. Many movements were on like women's liberation and students protests. For me the driving point and the changing of my thought process and questioning the society we live in was really Vietnam. There was a whole range of questions.
Why should be a poor country like Vietnam be attacked by a big power like America?
Why should young people go to war?
What were the reasons for war?
These questions are even relevant today. At that time you could not be young without questioning the Vietnam War. I was part of an Indian students group there but I was never part of any institution. My motivation was to bring back home that awareness in the Indian context, which was borne in me abroad. With the help of reading I struggled to understand everything.
In those days our education oriented students with social concerns. We considered poor people as bichare but when I started reading Marx and other books I understood that our whole approach was so patronising and welfare oriented.
Well-off people thought of the welfare of the poor to help them, they had the concept of charity. Everything I knew about poverty and poor stood on its head when I read more books. There was never any right-wing ideology ever in my life. My father was a liberal. Yes, we were sheltered but I was brought up in a highly secular atmosphere. We had no barriers or brakes on kind of friends we can have or kind of activities we were into. We had tremendous amount of freedom. There was no personal battle I had to fight in this regard.
At that time a moment of great questioning for me was -- the way the world is ordered what can one do to change that? How to fight back injustice? I found that the only path to fight inequality was the path of revolutionary politics. That was a big step for me. I was from a completely apolitical family. There was nothing right-wing ever in my family but it was apolitical. It was a world, which was protected.
Joining the Communist Party of India
I decided to leave my job in London. That was the first and last job I had. I came back to India. I didn't want to join the Socialist parties because I was motivated by Marx. I was reading him. I found the analysis of social realities in his books. My mind was in turmoil at that time. The decision to join the Communist Party was taken when I was between 21 and 23.
At that time in London there were a variety of Left-wing trends. There were anarchist, radical and feminist, there were people against the organised Left movement. A large number of Indian students were deeply involved in the Naxalite movement. But I joined the Communist party. That was the time Jyoti Basu had emerged as a leader and there was a huge struggle on.
The issue of inequality between the rich and poor motivated me the most and inspired me to join the party (CPI-M). Marxism provided lots of answers to me. I returned to Calcutta. I contacted the party. The party suggested I rejoin university and try to understand practical politics. I didn't want to, but against my wishes I joined Calcutta University and became a student of history in the MA course.
In retrospect I think the party did a sensible thing. They wanted me to be in an atmosphere where I would not completely be at sea. I wanted to work with workers but the party asked me to go to college and work amongst students. I started understanding practical politics. There was a repressive regime at that time. Communist students were being attacked. It was around 1971. It was a learning experience.
I distinctly remember the Bangladesh war. Communist students were working in the refugee camps. I remember my very first speech when I was literally standing on the university wall. I was more terrified of speaking than anything else. It was in bad Bengali but the students were very supportive. In 1975 I shifted to Delhi because I wanted to work in the trade unions.
At that time our party general secretary was Comrade (P) Sunderayya. He was ahead of his time. He had a clear perspective of the area of work to assign workers. He had a sensitive cadre policy. I was privileged to join the party in Delhi when he was the leader. I was accepted and got my membership. He inspired us and led us. The poor were then fighting for food. Millions of poor Indians found their voice.
It is only the Communist party that can help a person like me, who came from an absolutely non-political background, just driven by ideals and dreams. The party gave me space to think, develop and work.
Part 2: 'India has undemocratic eco structures'
Photograph: Dijeshwar Singh/Saab Press
Image: Uday Kuckian