An earthquake measuring 5.1 on the Richter Scale rattled parts of Maharashtra, Goa and Karnataka on Monday afternoon.

Indian Meteorological Department in New Delhi said the quake's epicentre was in Koyna, around 300 km from Mumbai, in Satara district of Maharashtra.

No loss of life or property was reported. Koyna, home to one of the state's biggest hydro-electric projects, is prone to seismic activity.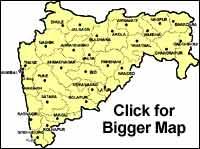 "The epicentre of the quake, which occurred at 1514 IST, is in Koyna region. We are still looking into other details," an official at the Indian Meteorological Department in New Delhi told rediff.com just minutes after tremors were felt in Mumbai.

The epicentre of the quake was at 17.2 degree North Latitude, 73.7 degree East Longitude, he added.

"Kucha-pucca houses may develop cracks, while weaker buildings may fall. Dams are generally built to withstand high-intensity quakes. So there is no need to worry about the Koyna dam," the official said.

Reports from Pune, Kolhapur, Sangli, Satara and Karad said the tremors lasted as long as 30 seconds.

Dr Ashish Magdum, a Sangli-based cardiologist who was at home when the quake struck, said: "The tremors lasted long. My father, who was asleep upstrairs, came running down. The rattle was quite pronounced."

Sangli is around 150 km from Satara.

A software developer in Andheri in suburban Mumbai sent us this mail: "I was working on my computer and there was a cup of tea on my desk. Suddenly at 3:17 pm my chair and monitor started shaking and the cup fell from the desk. I was shocked. But it was definitely a tremor... I felt it for a few seconds. Others in the office also felt it. There was no harm or damage. But some files, bottles and water glasses tumbled."

Assistant Editor Jestin George, who was travelling in a Mumbai local when the earth shook, did not feel anything. However, soon one person in the compartment got an SMS and with the demeanour of a reporter with a scoop, he announced the news to people around him.

In seconds, almost every cell phone in the compartment had begun beeping.

There was panic in Nariman Point, Mumbai's business district, with people rushing out of multi-storied office buildings.

Tremors were felt in parts of neighbouring Goa and Karnataka too.

With inputs from Salil Kumar in New Delhi