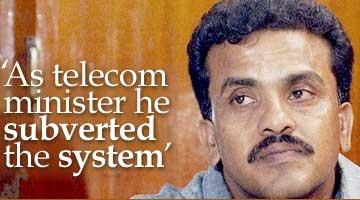 Firebrand Shiv Sena member of Parliament Sanjay Nirupam on Thursday announced his resignation from the Sena as well as the Rajya Sabha.
The crux of his problem with the party was Bharatiya Janata Party leader Pramod Mahajan, who, Nirupam alleges, benefited from Reliance Infocomm largesse.

Though Reliance has denied reports that link the former communications minister with the sale of Reliance Infocomm's equity at Rs 1 a share to some private companies in Delhi, Nirupam wanted to raise the issue in Parliament, but was told to shut up.
He shared his thoughts with Special Correspondent Salil Kumar in Delhi.
Has the time come to remove Mr Bal Thackeray's pictures from your living room?
Well, I have said this in my letter also, my respect towards Thackerayji will never go. He is like a father figure. That will always remain, come what may.
But this had to happen. Sooner or later you would have had to quit the party.
No, it is not like that. See, a non-Maharashtrian like me was taken into the party. The Shiv Sena opened its doors for me.
Once in, I also tried to make the Shiv Sena more inclusive. My efforts towards this were also there. Even Uddhavji (Shiv Sena working president Uddhav Thackeray) and others were working towards this. There was the 'Mee Mumbaikar' campaign, etc. So we were trying.
But I was feeling that my work was having a very limited effect. There were some groups who were talking of Marathi chauvinism. I told them, 'Look, on the one hand you have someone like me in the party and on the other you are behaving like this.'
Are you referring to Mr (Shiv Sena leader and Bal Thackeray's nephew) Raj Thackeray?
I don't want to take any names. It is better not to take names. But the point is how long can you stay like that? To say that outsiders should be banned from Mumbai is wrong. And in any case a decision like that is beyond the scope of the state. It needs a Constitutional amendment. Can the Shiv Sena do it?
We (in the Shiv Sena) also became aggressive about the slums demolition drive. Now, who are the people getting affected by it? Only poor people!
Then this latest issue about Pramod Mahajan.
Regarding the issue of migrants, why did you not quit the party when Shiv Sainiks beat up the students from north India who had come to Mumbai to appear in a railway recruitment exam?
I wanted to quit. I did take a stand. But I could not muster the courage. Though I knew if these kind of things went on, I would have to resign. But one thing is there: That was a turning point. I felt very sad then. I was anguished.
There are not many in the Shiv Sena who defy the leadership and raise controversial issues.
I used to raise issues. But I was asked to keep quiet.
You also raised the UTI issue in Parliament, which led to then prime minister Atal Bihari Vajpayee offering his resignation.
Yes, and I had to send a regret letter later on. I did not want to. But as a Shiv Sainik, I did.
Complete coverage: The UTI crisis page

What about Mr Mahajan?
This whole transaction (where some people reportedly got Reliance Infocomm shares at throwaway prices) is fishy.
And it is not as if I have already said something. I just wanted an investigation.
But Pramod Mahajan wanted me to give a statement saying I would not raise the issue in Parliament.
What do you mean when you say 'fishy'?
As telecom minister he subverted the system to favour one company. To favour CDMA technology, he changed the rules.
I am also a member of an (parliamentary) IT committee. When the issue came to light, I called for a probe and this was not liked.
Was there any pressure on you from the company that you allege benefited from Mr Mahajan's decision?
Not directly on me. They may have spoken to senior leaders in the Shiv Sena. But Pramod Mahajan did talk to the Sena.
What are your political plans?
We want to raise certain issues. Those who understand those issues, those who speak the truth, we are with them.
I will be with those who accept this.

From rediff.com archives:
'Vajpayee should deal with issues practically, not emotionally'
Image: Rahil Shaikh