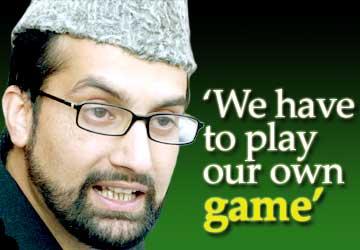 Most observers believe the fortnight-long visit by the four-member All-Parties Hurriyat Conference delegation to Muzaffarabad in Pakistan occupied Kashmir and Pakistan was a damp squib. But the leader of the delegation, Mirwaiz Umer Farooq insists the trip was a historic one, and that it was a "grand success."
"During our interaction with the leaders in Pakistan occupied Kashmir they told us they would abide by whatever decision is taken by the All-Parties Hurriyat Conference with regard to Kashmir. They told us they would follow the Hurriyat blindfolded," he told Associate Editor Onkar Singh in an exclusive interview in Srinagar on his return.
Do you think your tour started on the wrong note, with Jammu and Kashmir Liberation Front leader Yasin Malik revealing that Sheikh Rashid, Pakistan's information minister, was involved in running terror camps in PoK?
I don't think so. I think it was more a slip of tongue as far as Yasin Malik is concerned. This was not an intentional statement.
To be honest, our tour started on the right note. There was tremendous support for us in Azad Kashmir or PoK as you would like to call it.
The chances of a negotiated settlement are brighter today than ever before looking at the future and how the things can be settled.
What have you achieved?
You are not the only one to ask me this question. People have been asking what have you come back with. I am very optimistic.
If anyone thought we would come back with a solution in our pockets they were expecting a bit too much from such a short tour.
There is a unanimity in the approach adopted by the Hurriyat Conference, the president of Pakistan Pervez Musharraf and the leadership of Azad Kashmir.
Hurriyat backs Musharraf's Kashmir formula
Yasin Malik is upset because he thinks both India and Pakistan are playing up the Hurriyat Conference and not organizations like the JKLF.
The time has come that we have to play our own game.
We are representatives of neither India nor Pakistan.
We, the Hurriyat Conference, represent the aspirations of the people of Kashmir. The people of our state demand from us a constructive role in the ongoing negotiations between India and Pakistan over Kashmir.
Are the people of Kashmir a part of the deliberations?
Of course, they are.
I tend to disagree with those who reject this claim. The people of Kashmir are very much a part of the whole process.
We started talking to the Government of India when Atal Bihari Vajpayee was prime minister. Now we have visited Pakistan and held talks with their leadership. Again, we will hold talks with the Indian government.
If you want to share the same table with India and Pakistan I do not think it would be possible at this juncture. Maybe in times to come that stage will come as well.
The only way to proceed forward is India-Pakistan, India-Kashmir and Pakistan-Kashmir.
Exclusive: J&K ceasefire likely
Yasin Malik thinks leaders who have grassroot support should be given a chance.
I cannot comment on that, but as far as the question of representation is concerned we have never said we represent the entire state of Jammu and Kashmir.
The Hurriyat Conference represents the broader spectrum of the people of Kashmir.
We represent the aspirations, the blood and the sacrifices that our youth have made.
When the time comes to show the world our representative character then we will do it.
Image below: Hurriyat leaders return from their two-week trip to PoK and Pakistan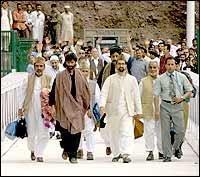 How did you feel when the Pakistan government placed a helicopter at your service?
This was a short trip and we wanted to meet as many people as possible and visit more number of places. Placing a helicopter at our service facilitated our desire. This was good because it provided us with an opportunity to meet and talk to people.
I would like to clarify one more thing. The support of the people of Pakistan is not conditional as is thought here that they support us because they want Kashmir to merge with Pakistan. They told us whatever the people of Kashmir are content with they would support that.
When I met Musharraf in Amsterdam he clearly told me there was a time when Pakistani policy revolved around the question about what Pakistan would get out of Kashmir. But the policy has changed. Their prime concern is what can the Kashmiris get from this deal.
Hurriyat says Pak has no solution to offer
Has this change come about because he realises he cannot take Kashmir by force or is it a genuine change of heart?
I think it is a realisation that the people of Kashmir are suffering. The general feeling is if they cannot help the Kashmiris then they should not increase our misery.
The people of Pakistan want a settlement that will satisfy the people of Kashmir.
Are you taken aback that the United Jihad Council did not throw its weight behind you?
We did meet leaders of the United Jihad Council. We had a good meeting with commanders of different jihadi factions.
You don't expect everyone to be on board in the first instance itself. It does not happen that way. They have some reservations. This is a first step.
Why should those wielding guns give you the chance they had been waiting for?
I would say the issue of Kashmir has come to the table from the battlefield. What is needed is the skills to hold a dialogue.
The struggle of Kashmir was fought on three different fronts -- political, diplomatic and militant.
I am of the opinion that those wielding guns and those holding diplomatic discussions should support the process rather then oppose it. This is in the interest of the people of Kashmir.
We will take the militants into confidence about what we are doing.
I would like to thank the Government of India that they did not play spoilsport and let us go to Pakistan occupied Kashmir and Pakistan. This gives positive signals that the Government of India is also looking at different possibilities to resolve this issue.
What is important is that we, the Kashmiri leadership, have a sense of involvement in the peace process between India and Pakistan. The people would give more support as the process goes on.
Former prime minister Atal Bihari Vajpayee has accused the Government of India of committing a mistake by letting the Hurriyat delegation travel beyond PoK.
I wonder in what context he made this statement.
We have high regard for Vajpayeeji because he is the architect of the peace process. His remarks are taken very seriously in Kashmir. He also understands that no solution to the Kashmir problem is possible unless or until the people of Kashmir are made a party to the negotiations.
Bilateral efforts have failed miserably right from 1947 onwards. Only a concept of tripartite talks can bring about a solution and we have shared it with L K Advani when he was holding talks with us.
I am hopeful all sane elements will see a logic in our argument and support us.
Did Pakistan make a mistake by allowing you in Pakistan without a visa?
This is just a modality. We are involved in a very intricate process. Papers, documents and visas should not bother us.
We are looking at a future where India, Pakistan and Kashmiris are all together. We should not play politics with such issues which concerns the lives of hundreds of millions of people.
Don't you think you should have met Dr Manmohan Singh before going to Pakistan rather then awaiting a call from New Delhi now?
Going to Pakistan was never a condition. When we held talks with the Vajpayee government we did not force this condition although we wanted to go to Pakistan. Even Advani had agreed that the Hurriyat could go to Pakistan after our third meeting.
What is this concept of United States of Jammu and Kashmir? Where did you pick it from?
It was just a thought which I voiced during one of my speeches in Pakistan. The idea is not to divide or subdivide the people of Kashmir, rather bind them together. The mechanism could be worked out later.
We want to preserve our culture, unity in diversity and our Kashmiriyat.
We want the Kashmiri Pandits to come back to the valley and go back to their homes so that we have a homogenous society.
Musharraf feels the problem can be solved in a day.
I don't want to comment on what he has to say. It would take more than a day but if we have the courage to take bold steps we can achieve this.
Is Musharraf encouraging you because he first wants to lure you and then annex Kashmir?
(Laughs) I would not agree. Their suport is unconditional. They are saying they are willing to go beyound the UN resolution if India is willing to say so.
Headline Photograph: Sajjad Hussain/AFP/Getty Images
Copy Image: Tauseef Mustafa/AFP/Getty Images
Design: Rahil Sheikh
Also read:The peace process | The road to peace